Mattias Green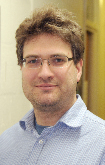 Matt is a Senor Lecturer in physical oceanography at Bangor University's School of Ocean Sciences. After studies at Gothenburg University, Swede, he moved to Bangor as postdoc and stayed on for a NERC Advanced Fellowship, before moving into his current position. His research deals with tides and how tides interact with other parts of the Earth System in the past, present, and future.
One important component of this is how tidal energy is lost in the ocean and how this affect the climate controlling overturning circulation under different climate scenarios and different time periods. He also works with observations and theoretical analysis on ocean turbulence, internal waves, and mixing in shelf seas in order to improve our understanding of how the ocean is mixed, and how we can improve ocean models to better replicate the mixing. One connection of this work is to investigate how the physics control biogeochemical processes, especially primary production at the shelf break, and how these have changed as the tides change over long time-scales.
Matt was in charge of grants for the Society but I am now (as of September 2018) the Honorary Secretary.
Latest News
COVID-19 Impact Survey
NOCA has announced a survey into the impacts of COVID-19 on the UK Marine Science Community
---
NOC - Net Zero Oceanographic Capability Project
NOC announces an ambitious scoping project....
---
Challenger Society 2020 Conference
Conference Postponed until Sept 2021 due to Covid-19 outbreak.
Challenger Society 2020 Conference
at SAMS , Oban


6th-10th September, 2021
Registration, and Abstract submission is available on the conference website at https://challenger2020.co.uk

---