Mattias Green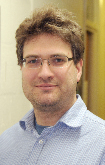 Matt is a Senor Lecturer in physical oceanography at Bangor University's School of Ocean Sciences. After studies at Gothenburg University, Swede, he moved to Bangor as postdoc and stayed on for a NERC Advanced Fellowship, before moving into his current position. His research deals with tides and how tides interact with other parts of the Earth System in the past, present, and future.
One important component of this is how tidal energy is lost in the ocean and how this affect the climate controlling overturning circulation under different climate scenarios and different time periods. He also works with observations and theoretical analysis on ocean turbulence, internal waves, and mixing in shelf seas in order to improve our understanding of how the ocean is mixed, and how we can improve ocean models to better replicate the mixing. One connection of this work is to investigate how the physics control biogeochemical processes, especially primary production at the shelf break, and how these have changed as the tides change over long time-scales.
Matt was in charge of grants for the Society but I am now (as of September 2018) the Honorary Secretary.
Latest News
Is fieldwork a requirement for a career in marine science?
Please save the date for an introductory and perception gathering event run by a subset of the Challenger Society EDIA working group. The virtual event will focus on 'Evaluating perceptions of job roles in marine research and raising awareness of digital twinning of the oceans to promote diversity and inclusivity in the marine sciences.' The event will take place on the 27th of January 2021 13:30-15:30 on zoom.



---
The Decade Working Group (DWG): Update
In the UK marine community the United Nations Decade of Science for Sustainable Development (2021-2030), hereafter 'the Decade', is gaining growing publicity. What is less well established is how UK marine researchers can participate in the Decade and how funding for research will emerge.
---
New NERC Ocean Observations Consultation
The Natural Environment Research Council (NERC) has asked the National Oceanography Centre (NOC) to lead a piece of work on prioritising the sustained ocean observations that are most important to the UK and the international effort.
---