Mattias Green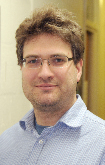 Matt is a Senor Lecturer in physical oceanography at Bangor University's School of Ocean Sciences. After studies at Gothenburg University, Swede, he moved to Bangor as postdoc and stayed on for a NERC Advanced Fellowship, before moving into his current position. His research deals with tides and how tides interact with other parts of the Earth System in the past, present, and future.
One important component of this is how tidal energy is lost in the ocean and how this affect the climate controlling overturning circulation under different climate scenarios and different time periods. He also works with observations and theoretical analysis on ocean turbulence, internal waves, and mixing in shelf seas in order to improve our understanding of how the ocean is mixed, and how we can improve ocean models to better replicate the mixing. One connection of this work is to investigate how the physics control biogeochemical processes, especially primary production at the shelf break, and how these have changed as the tides change over long time-scales.
Matt was in charge of grants for the Society but I am now (as of September 2018) the Honorary Secretary.
Latest News
Challenger Medal Awarded 2020 and 2022
The Challenger Society is delighted to announce the delayed award of the 2020 Challenger Medal to Prof. Alberto Naveira Garabato, and of the 2022 Challenger Medal to Prof. Carol Robinson. We are absolutely delighted to honour these two fantastic scientists in this way, and look forward to hearing their Award Lectures at the forthcoming Challenger 150 meeting at the Natural History Museum. For more information about the Challenger Conference 2022 please click here.
---
International Digital Twins of the Ocean Summit #DITTO22
You are warmly invited to join on-line the International Digital Twins of the Ocean Summit #DITTO22, which takes place on Wednesday and Thursday the 4th and 5th of May.
---
Vacancy MASTS Marine Social Science Lead
MASTS has a vacancy for a 0.5FT Marine Social Science lead.
---