Ros Rickaby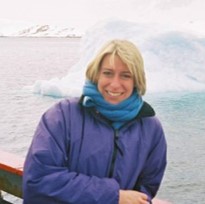 Throughout her research career, Ros has aimed to bring life to geochemistry! Ros has pioneered an interdisciplinary blend of biology and chemistry to resolve questions of past climates, evolution, and the future of the phytoplankton. Ros' distinctive approach is to read geological history from signals of adaptation within genes of modern organisms, which play out in the evolving affinity and kinetics of the expressed enzymes, or isotopic signals of adaptation that leave a footprint in fossils and biomolecules. Ros has authored over 90 papers and co-authored a book "Evolution's Destiny: Co-evolving chemistry of the environment and life".
Ros has recently taken up the role of Chair of Geology, Department of Earth Sciences, University of Oxford, having been Professor of Biogeochemistry since 2002, on the dark side (of blue!) as well as mum to two boys. She received her PhD with Harry Elderfield from Cambridge University in 1995 and studied at Harvard for her post-doc with Dan Schrag. In 2008 Ros received the European Geosciences Union's Outstanding Young Scientist award, in 2010 the American Geophysical Union's James B. Macelwane Award for significant contributions to the geophysical sciences by an outstanding young scientist and most recently, in 2016, the Lyell Award of the Geological Society of London. She currently holds a Wolfson Research Merit Award from the Royal Society.
Latest News
Is fieldwork a requirement for a career in marine science?
Please save the date for an introductory and perception gathering event run by a subset of the Challenger Society EDIA working group. The virtual event will focus on 'Evaluating perceptions of job roles in marine research and raising awareness of digital twinning of the oceans to promote diversity and inclusivity in the marine sciences.' The event will take place on the 27th of January 2021 13:30-15:30 on zoom.



---
The Decade Working Group (DWG): Update
In the UK marine community the United Nations Decade of Science for Sustainable Development (2021-2030), hereafter 'the Decade', is gaining growing publicity. What is less well established is how UK marine researchers can participate in the Decade and how funding for research will emerge.
---
New NERC Ocean Observations Consultation
The Natural Environment Research Council (NERC) has asked the National Oceanography Centre (NOC) to lead a piece of work on prioritising the sustained ocean observations that are most important to the UK and the international effort.
---