American Geophysical Union Fall Meeting in San Francisco
Eleanor Darlington
Loughborough University, Department of Geography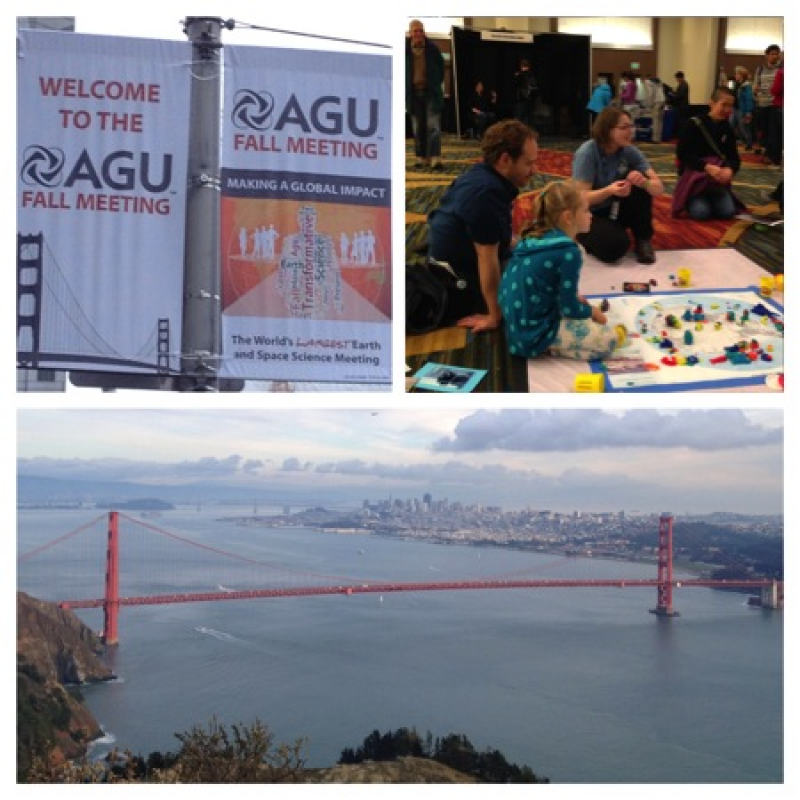 American Geophysical Union Fall Meeting in San Francisco
In December 2014 I attended the American Geophysical Union Fall Meeting in San Francisco, thanks to financial support from the Challenger Society. With 23,000 delegates in attendance, this was certainly my first mega-meeting! I presented a poster on my PhD research, which uses sediment plumes to monitor meltwater delivery from a tidewater glacier in Svalbard. Presenting at the AGU meeting provided a platform to explore potential collaborations and post-doctoral opportunities.

It was fantastic to be able to put my work into the wider context of contemporary research, in addition to hearing about research from other discipline, completely irrelevant to my own. The diversity of science presented was astounding! I was also able to volunteer at the Explorer Station run by the Association of Polar Early Career Scientists. This family outreach event attracted hundreds of people from the local area, of all ages. We spoke about research and experiences in the field. The younger visitors made Play-Doh animals to place on the Arctic and Antarctic maps.

Profile

Eleanor is nearing PhD completion at Loughborough University. Her research focuses on ice-ocean interactions of tidewater glaciers in Svalbard, using both remote sensing and in-situ measurements. In addition, she has been actively involved with education and outreach through the UK Polar Network and the International Polar Foundation.


Latest News
The oceans, the blue economy and implications for climate change event
The oceans, the blue economy and implications for climate change
Date: 29 November 2023, 6:30 pm - 8:00 pm
Speaker: Rupert Howes, Joanna Post, Dr John Siddorn, Dr Siva Thambisetty, Professor Elizabeth Robinson, Dr Darian McBain
Venue: Sheikh Zayed Theatre, Cheng Kin Ku Building, LSE Campus and online

Many conversations about sustainability and climate-change focus on activities on land – the green part of our planet. This misses a vital part of the puzzle, the role that our oceans play.
---
Ocean and Coastal Futures - Bursary
As part of our commitment to encouraging and supporting diversity, equity and inclusion, Ocean and Coastal Futures is launching its first Coastal Futures Bursary in partnership with Esmée Fairbairn Foundation. This opportunity is open for young people aged 18 to 30 years old, who are currently underrepresented in the marine and coastal sector and face financial barriers to attending. Individuals do not have to be working or studying in the sector currently but must reside in the UK.
---
CLASS Modelling Workshop 2024
The CLASS Programme is hosting a Modelling Workshop in early 2024. This is aimed at UK participants only. Event details and criteria to sign up are available here.
---