Presenting at the 15th International Coral Reef Symposium 2022
Thea Moule
Bangor University, Wales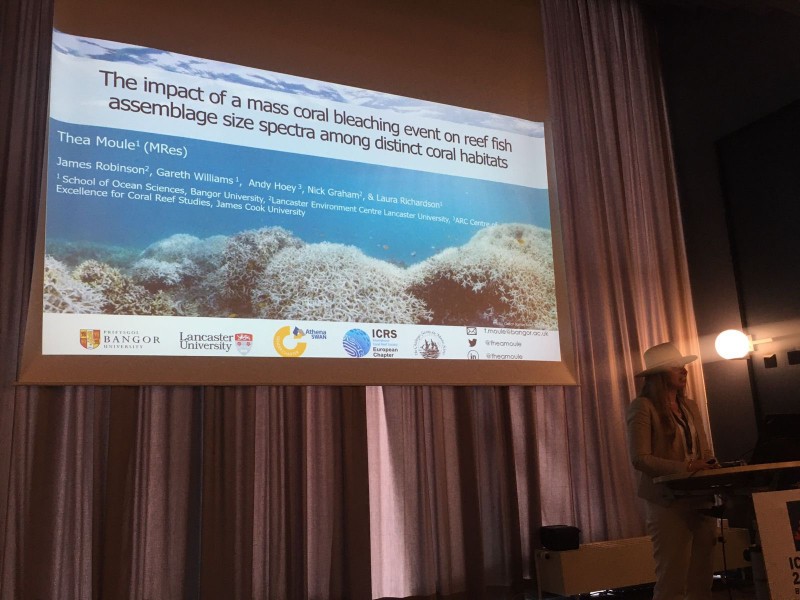 Caption: Thea presenting her MRes project at the ICRS 2022

I am grateful to the Challenger Society for the Travel Award that supported my attendance and participation at the 15th International Coral Reef Symposium (ICRS) 2022, held in Bremen, Germany, from July 3rd to 8th. Before entering academia, I travelled the world while working in the dive industry, exposing me to the current threat coral reef ecosystems are facing. This experience ignited my passion for a research career focused on coral reef ecology. Therefore, it was a dream come true not only to attend the primary international conference on coral reef conservation, science, and management but also to present my current MRes project to an international audience.



Caption: Kaisen Saal, one of the many conference rooms at ICRS 2022.

The symposium took place at the Bremen Convention Bureau, which was easily accessible by trams that were free for conference attendees. An icebreaker event scheduled the evening before the symposium provided the ideal way to ease into the conference and meet with attendees while enjoying appetizers and a few glasses of wine. The first day kicked off with a fabulous opening ceremony full of music, dancers, and bright colours depicting a coral reef - the energy was great and perfectly set the scene for the week to follow. Each day there were two plenary speakers, up to ten sessions running simultaneously, numerous workshops, and plenty of opportunities to network while having a coffee during the breaks. All the plenary speakers gave inspirational presentations, but a talk by Natalie Ban stood out to me. Her talk focused on how colonialism and capitalism created the biodiversity crisis and shared teachings from indigenous communities on ecosystem sustainability. These are important topics we need to consider for protecting coral reefs. I was thankful for the chance to network with Natalie after her talk and look forward to meeting her lab group in the future.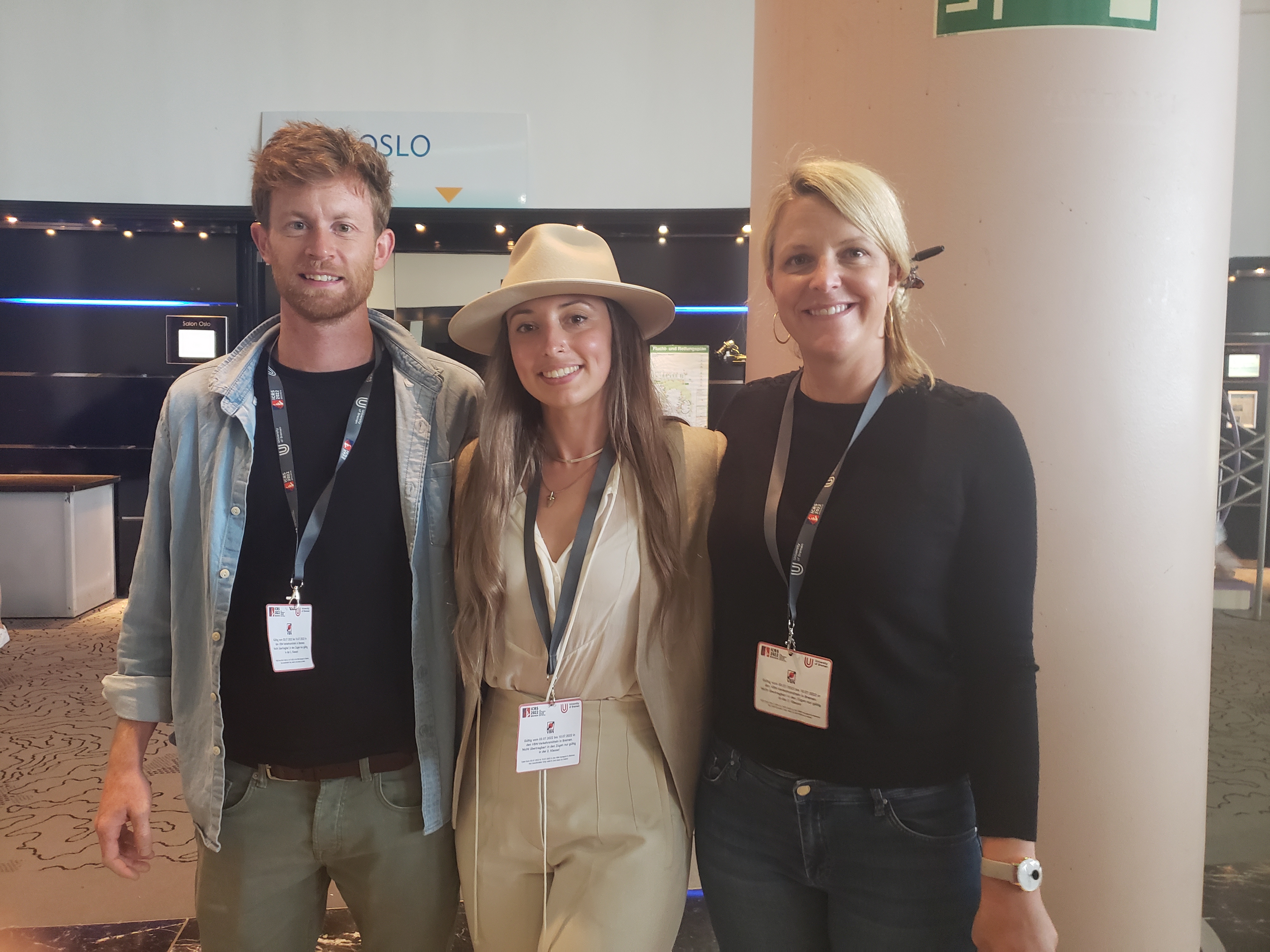 Caption: Thea with two of her superiors at ICRS, James Robinson from Lancaster University and Laura Richardson from Bangor University.

On the final day, I gave my talk titled "The impact of a mass coral bleaching event on reef fish assemblage size-spectra among distinct coral habitats". My presentation was part of the "New theories and future projects" theme, under the "How will tropical fisheries respond to climate changes on coral reefs?" session chaired by one of my supervisors, James Robinson. It was great to hear from the other speakers in the session about their projects highlighting the effects of warming on tropical fish communities. The chance to present was a valuable opportunity to share my research and findings with an audience of international researchers. Despite being nervous leading up to my talk, due to my first time presenting at a conference, I thoroughly enjoyed the experience. I was delighted to have received positive feedback from distinguished researchers in this field.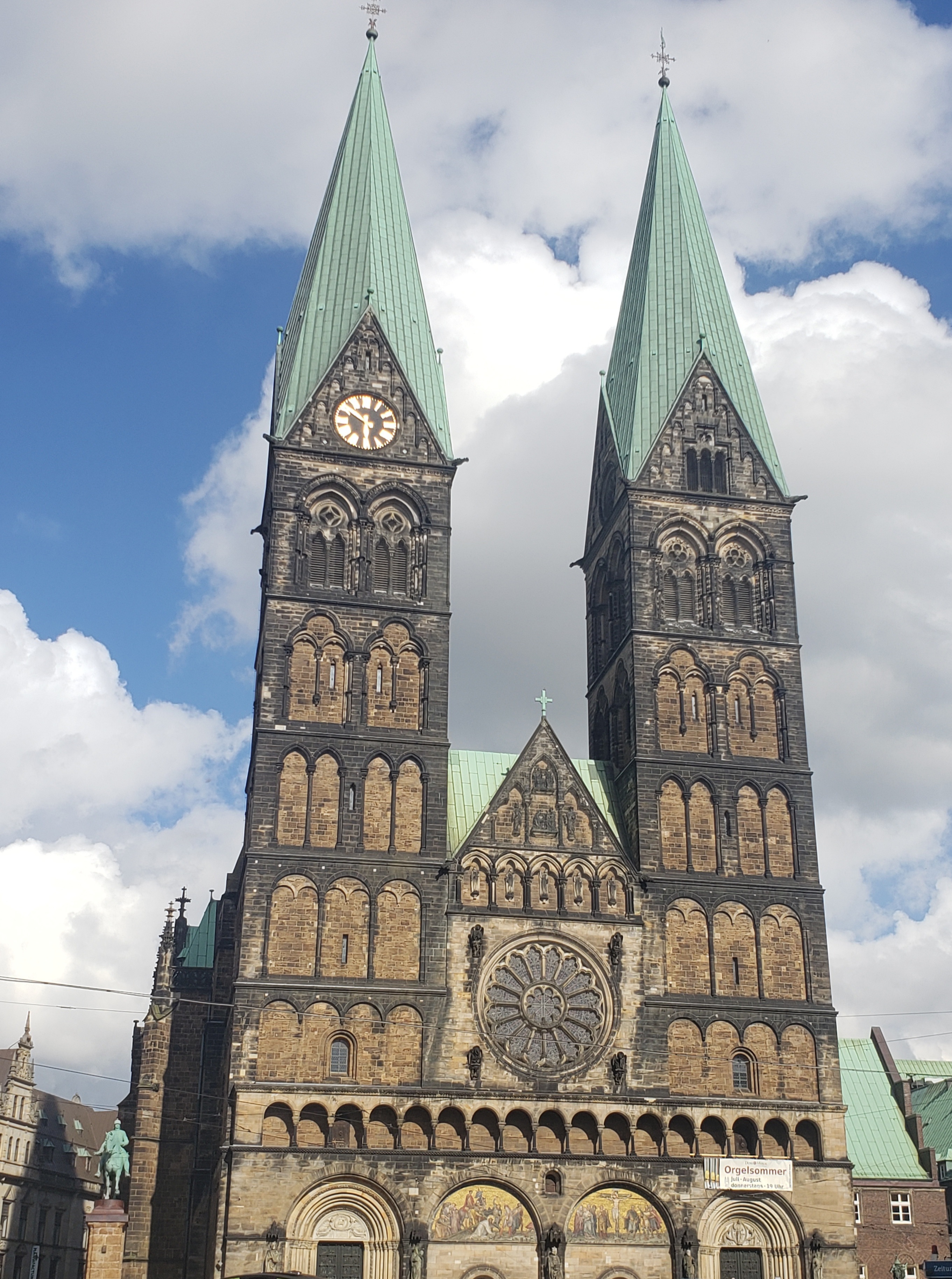 Caption: Outside the conference centre, exploring the beautiful city of Bremen.

The 15th ICRS was my first time attending ICRS, and it was an honour to have been part of their first carbon-neutral symposium. My main aim at the conference was not only to present my research but also to network and immerse myself in the current coral reef research. During the coffee breaks and social events, I took the opportunity to connect with other attendees from postgraduate to professor level, gaining some exciting contacts from around the world. It was great to learn about their current work and career path, and discussing my research provided new insights and interpretations of my project findings. I was also fortunate to meet in person with lab groups who collaborate with the Reef Group at Bangor University and with members of organisations I am associated with, such as Women in Ocean Sciences, for the first time. Lastly, the ICRS night, held the evening before the final day was an enjoyable event to network in a relaxed setting and celebrate the successful symposium with new and old friends.

Once again, I am thankful for the support from the Challenger Society to participate in the ICRS 2022, which focused on developing science-based solutions to address the current and future challenges of coral reefs from unprecedented anthropogenic and climate change disturbances. The opportunity to attend an in-person coral reef-focused conference was an incredible platform to network and provided an invaluable chance to advance both personally and professionally. I look forward to hopefully attending the 16th ICRS in Auckland, New Zealand, in 2026.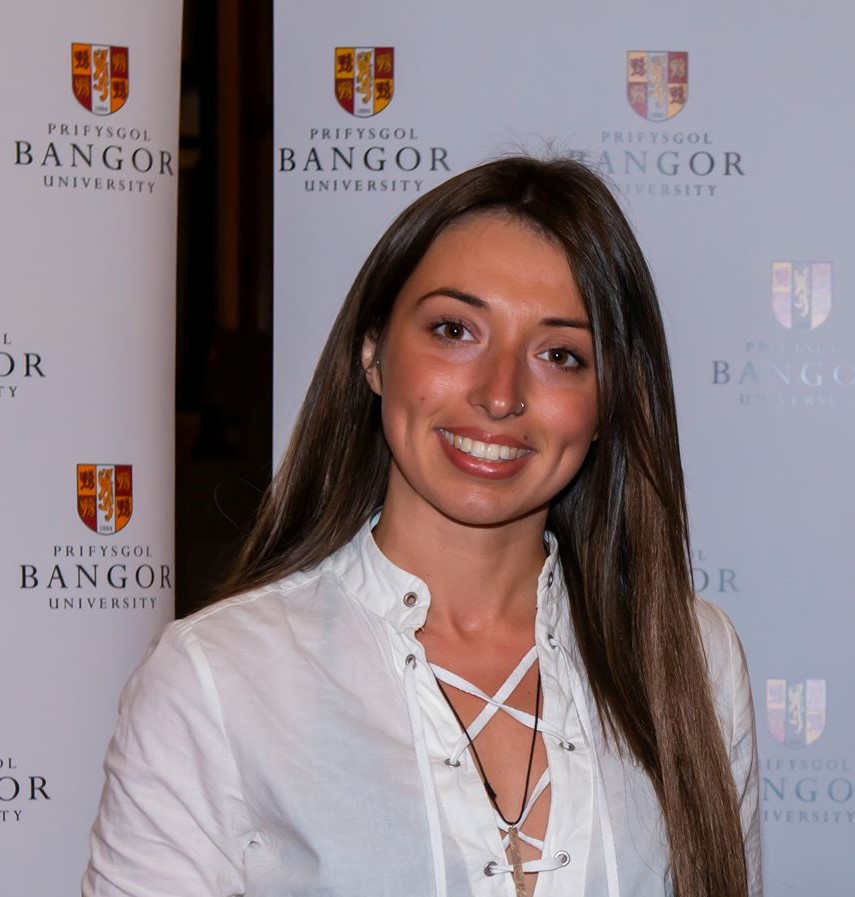 Profile:
Thea Moule graduated with a First-Class Honours degree in BSc Marine Biology at Bangor University, Wales, where she was an Entrance Scholar and the Gavin Borthwick Prize recipient. Her dissertation explored the influence of direct human impacts on the spatial depth patterns of Pacific coral reef benthic communities, using a NOAA dataset on four archipelagos situated in the Western and Central Pacific oceans. She carried on her studies at Bangor University and enrolled on an MRes in marine biology fully funded by Athena Swan. Her thesis project investigated the variation in body size distributions of reef fish community assemblages, before and after a mass coral bleaching event on Lizard Island, Australia. Alongside her academic studies, she has worked as a research assistant on various marine ecology projects in the School of Ocean Sciences at Bangor University, was part of the research team on a scientific cruise in Iceland collecting data on seabird ecology and completed the Coral Reef Ecology course at the Bermuda Institute of Ocean Sciences having been awarded a full scholarship by the UK BIOS Associates. Thea currently works for the Marine Diaries (an ocean science communication platform) and is in the final stages of writing up her MREs. She plans to continue with coral reef research by pursuing a PhD after graduation.
Latest News
The oceans, the blue economy and implications for climate change event
The oceans, the blue economy and implications for climate change
Date: 29 November 2023, 6:30 pm - 8:00 pm
Speaker: Rupert Howes, Joanna Post, Dr John Siddorn, Dr Siva Thambisetty, Professor Elizabeth Robinson, Dr Darian McBain
Venue: Sheikh Zayed Theatre, Cheng Kin Ku Building, LSE Campus and online

Many conversations about sustainability and climate-change focus on activities on land – the green part of our planet. This misses a vital part of the puzzle, the role that our oceans play.
---
Ocean and Coastal Futures - Bursary
As part of our commitment to encouraging and supporting diversity, equity and inclusion, Ocean and Coastal Futures is launching its first Coastal Futures Bursary in partnership with Esmée Fairbairn Foundation. This opportunity is open for young people aged 18 to 30 years old, who are currently underrepresented in the marine and coastal sector and face financial barriers to attending. Individuals do not have to be working or studying in the sector currently but must reside in the UK.
---
CLASS Modelling Workshop 2024
The CLASS Programme is hosting a Modelling Workshop in early 2024. This is aimed at UK participants only. Event details and criteria to sign up are available here.
---