The ASLO Aquatic Sciences Meeting 2023
Lucy Carruthers
Northumbria University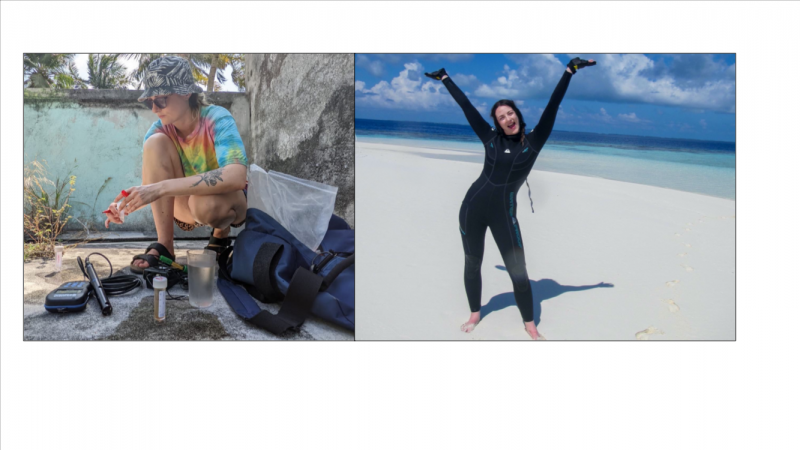 I was very honoured to be awarded the travel grant by The Challenger Society to attend the ASLO Aquatic Sciences Meeting 2023 in Palma, Majorca, which took place from the 4th to the 9th of June. This year's theme was 'Resilience and Recovery in Aquatic Systems' and I was excited to engage in topics based on positivity and unity in the science community. This was my first ever conference, so I was really looking forward to all the new experiences I would have and the chance to meet new people in my field. Plus, spending a week in the sun on the stunning island of Majorca wasn't so bad!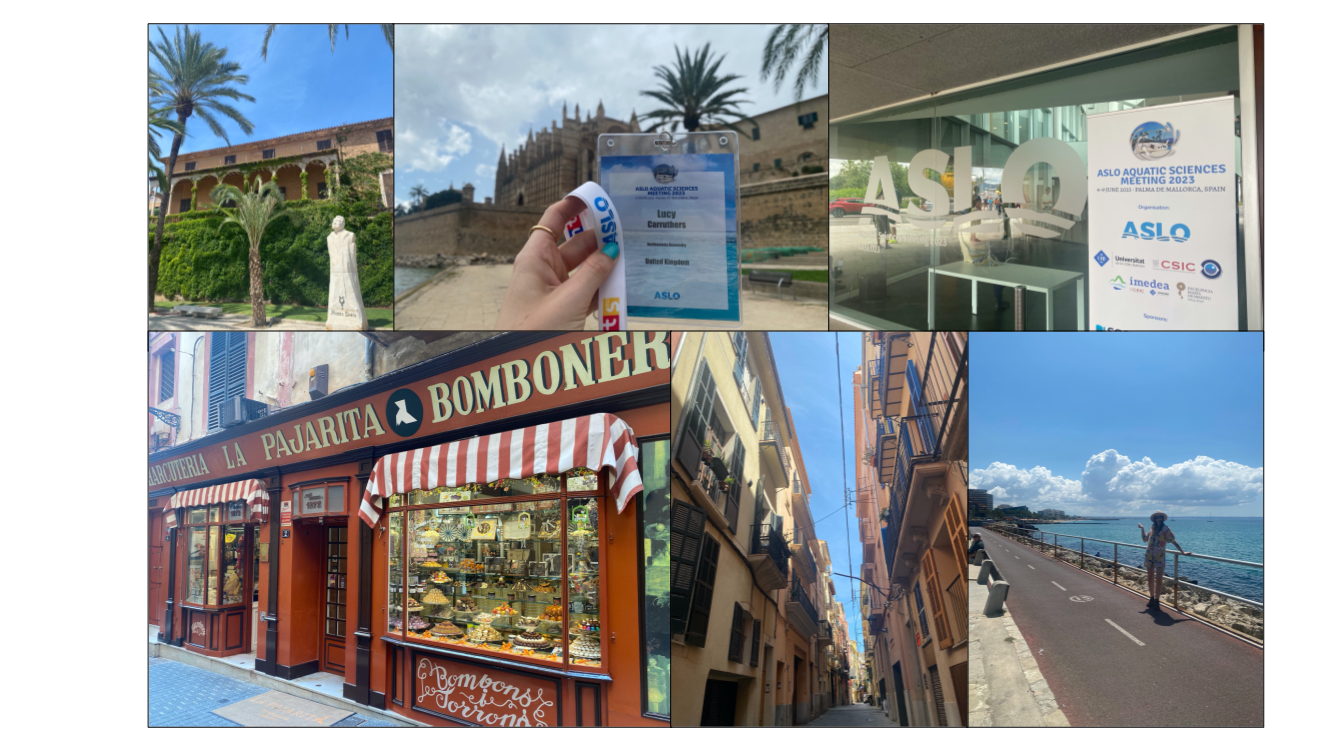 Caption: On my daily walk to the conference, I would take different routes and explore the sites of Palma along the way. Bottom right is me pointing at the Palma Convention Centre which is where the conference was held.

I was relieved to discover that my presentation was scheduled for the first day of the event. This meant that I didn't have to endure a long wait and could fully immerse myself in enjoying the remainder of the week once it was over. I was quite nervous for my presentation as I'm sure, like most people reading this, I find talking in public quite overwhelming. However, I saw it as an opportunity to challenge myself and conquer my fear, making it all the more significant. My presentation, entitled 'Is sea level driving mangrove die-back in the Maldives? Insights from remote sensing and dendrogeochemistry', was a chapter from my PhD thesis and project that I am deeply passionate about. I felt immensely grateful to have the chance to share it with an international audience during the 'Extreme Climatic Events: A Challenge for Shallow Coastal Ecosystems' session. Before my talk, I made the unfortunate mistake of drinking a few too many espressos which I thought would energise me in Spanish sun but, in fact, added to my adrenaline and nerves! Nevertheless, once I stepped onto the stage, I felt surprisingly at ease, and my presentation went exceptionally well. The overwhelmingly positive feedback I received took me by surprise. It was truly heart-warming to be part of such a supportive community, and I felt a genuine sense of pride in myself. This experience provided me with an incredible boost of confidence that carried me through the rest of the week.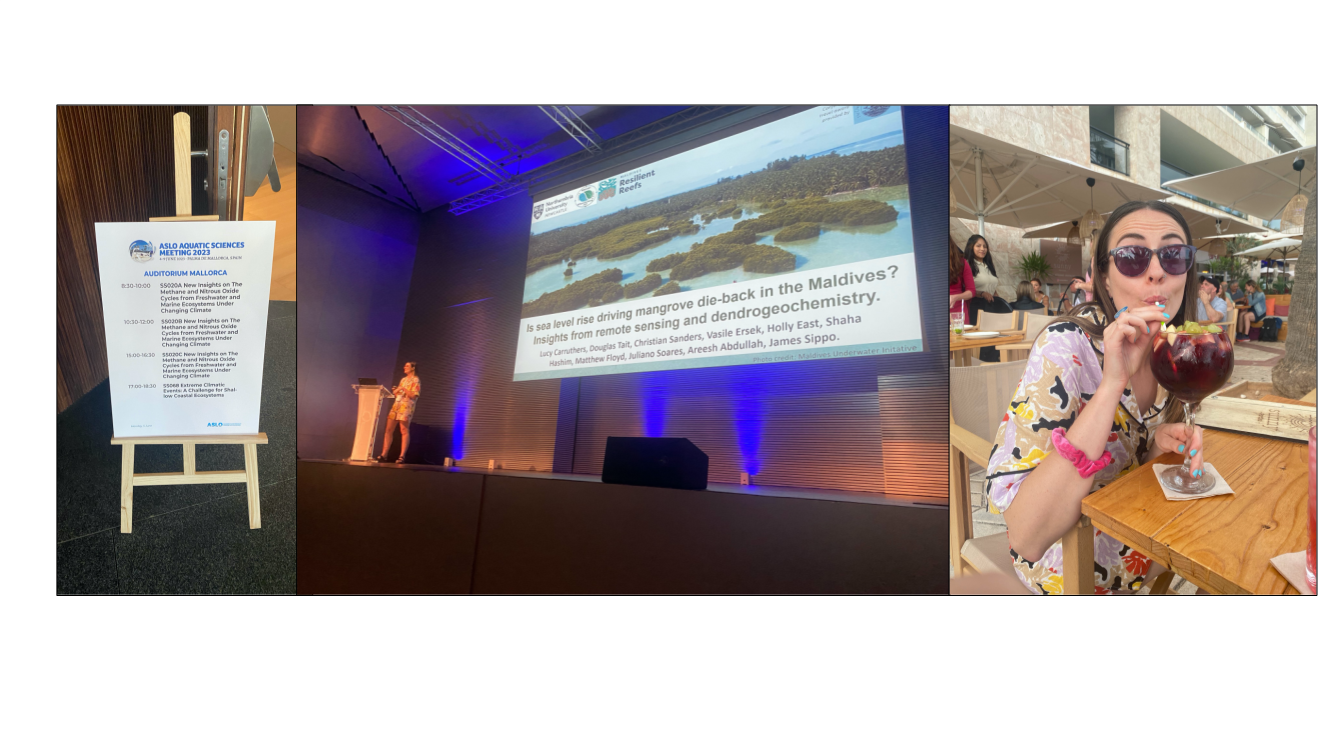 Caption: Me on the big stage during my presentation and celebrating after with a large glass of well-deserved sangria!

I really enjoyed the broad range of sessions at the conference and spent the rest of the week going to as many as I could. Some favourites of mine were learning about all the different applications of remote sensing in aquatic research and sessions relating to blue carbon and natural infrastructure. In the spirit of broadening my knowledge and embracing new perspectives, I also made a point to attend sessions that were not directly related to my PhD research. One highlight was attending a captivating talk by John Dabiri, from the California Institute of Technology, whose work focuses using jellyfish to make discoveries in ocean monitoring, heart condition diagnosis, and wind turbine engineering. His ground-breaking research left me in awe and I'll never look at jellyfish in the same way!

Beyond the scientific content, one of the standout moments for me from the conference was the incredible networking opportunities. ASLO hosted various mixers and poster sessions as well as a super fun closing ceremony which served as ideal platforms for networking and meeting fellow attendees. It was truly an awesome experience to meet and engage with fellow PhD students from various corners of the globe, exchanging insights and learning about their unique research journeys. I managed to meet up with the Barefoot Biogeochemistry research team from Southern Cross University, Australia and the University of Gothenburg, Sweden. I have been working with the Australian team for the past year, so it was great to meet up with the Swedish group and learn all about their research. Furthermore, I had the privilege of meeting professors who are actively involved in mangrove conservation and restoration projects. As a final year PhD student, these connections proved to be immensely valuable, enabling me to discuss future projects and career opportunities.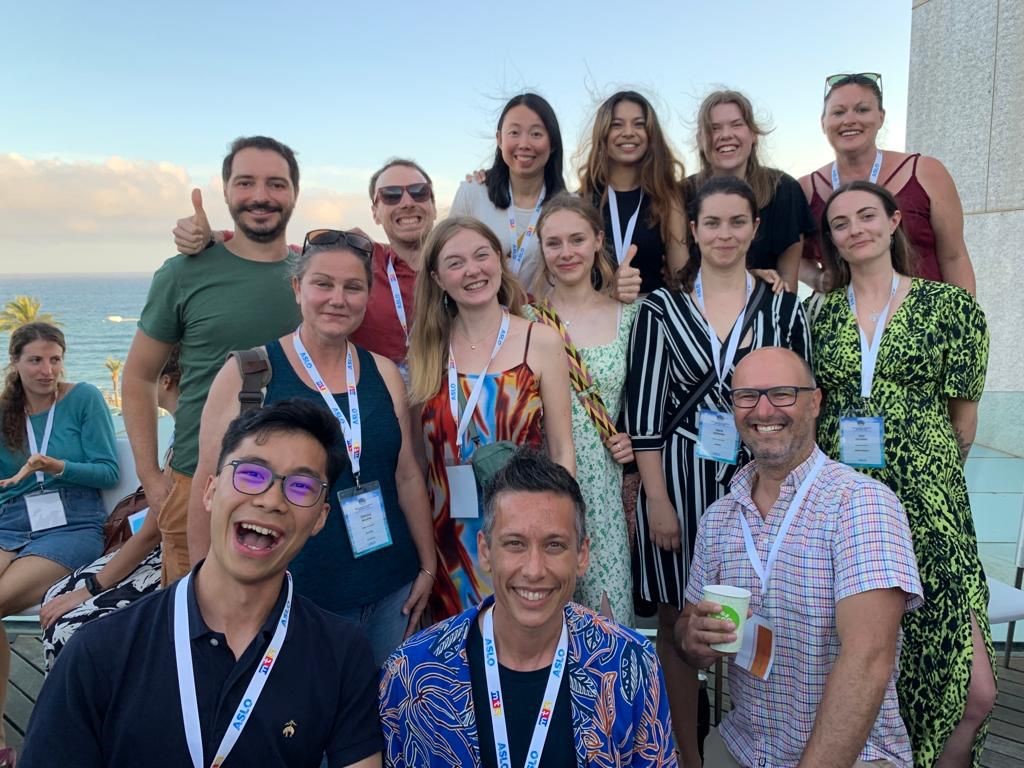 Caption: Me with the Barefoot Biogeochemistry team from Southern Cross University, Australia and the University of Gothenburg, Sweden lead by Professor Isaac Santos. It was great to finally be able to meet up with the Swedish team at ASLO. They're a great bunch of scientists doing super cool research!

I came away from the conference feeling super inspired about my research and the new meaningful connections I have made as well as confident that the next public speaking I do will be a success too.

Profile:
I am Lucy Carruthers, a PhD student from Northumbria University, supervised by Dr Vasile Ersek and Dr Holly East. My research investigates the impact of climate change on the natural resources of coral reef islands in the Maldives, covering land, groundwater and mangroves.
Latest News
The oceans, the blue economy and implications for climate change event
The oceans, the blue economy and implications for climate change
Date: 29 November 2023, 6:30 pm - 8:00 pm
Speaker: Rupert Howes, Joanna Post, Dr John Siddorn, Dr Siva Thambisetty, Professor Elizabeth Robinson, Dr Darian McBain
Venue: Sheikh Zayed Theatre, Cheng Kin Ku Building, LSE Campus and online

Many conversations about sustainability and climate-change focus on activities on land – the green part of our planet. This misses a vital part of the puzzle, the role that our oceans play.
---
Ocean and Coastal Futures - Bursary
As part of our commitment to encouraging and supporting diversity, equity and inclusion, Ocean and Coastal Futures is launching its first Coastal Futures Bursary in partnership with Esmée Fairbairn Foundation. This opportunity is open for young people aged 18 to 30 years old, who are currently underrepresented in the marine and coastal sector and face financial barriers to attending. Individuals do not have to be working or studying in the sector currently but must reside in the UK.
---
CLASS Modelling Workshop 2024
The CLASS Programme is hosting a Modelling Workshop in early 2024. This is aimed at UK participants only. Event details and criteria to sign up are available here.
---