Carna Research Station, County Galway
Siobhan Vye
School of Biological Sciences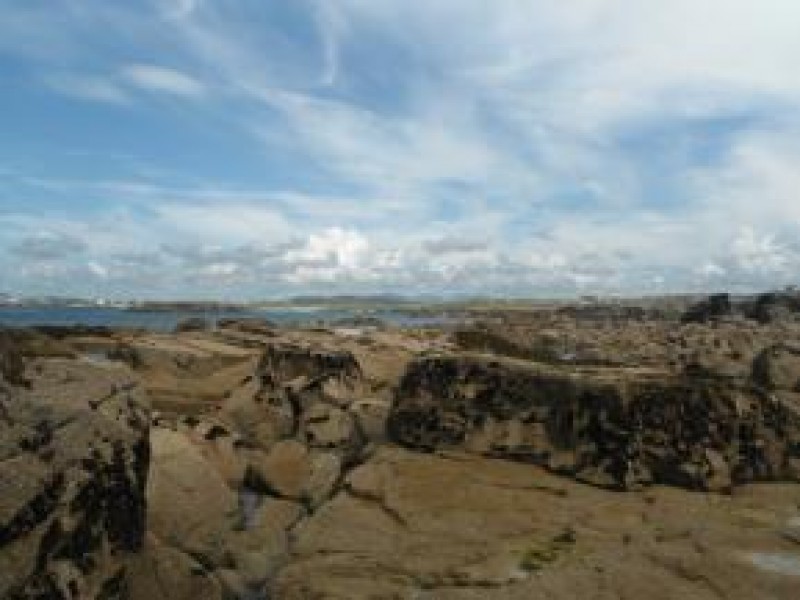 Carna Research Station, County Galway
The grant enabled me to travel to Connemara, Co. Galway and run an experiment in rock pools on a shore near the Carna Research Station. The experiment manipulated nutrient enrichment and the presence of an invasive sea weed (Sargassum muticum), with the aim of identifying the effects on biodiversity. Data collected from this experiment will give an important insight into the cumulative effects of multiple stressors and will form the final part of my PhD project.

During the week-long trip, a colleague and I travelled to the field site and set up the experiment. This included identifying suitable rock pools, measuring the diversity of the rock pools and quantifying the abundance of the invasive seaweed. We spent 6 – 7 hours on the shore each day, from around 6am until mid-afternoon. The early mornings and long hours were more than made up for by some lovely Irish spring sunshine. Highlights of the trip include the picturesque setting and the amazingly colourful algal diversity within the rock pools! Unfortunately, the well-known Irish rain did make an appearance on the last day, but it wouldn't be field work in Ireland without it! In addition, the trip provided an opportunity to liaise with the very welcoming staff and academics at Carna Research Station, NUI Galway. This has allowed me to forge links with members of the international marine research community.

My thanks go to the Challenger Society for facilitating a productive and rewarding trip.
Latest News
The oceans, the blue economy and implications for climate change event
The oceans, the blue economy and implications for climate change
Date: 29 November 2023, 6:30 pm - 8:00 pm
Speaker: Rupert Howes, Joanna Post, Dr John Siddorn, Dr Siva Thambisetty, Professor Elizabeth Robinson, Dr Darian McBain
Venue: Sheikh Zayed Theatre, Cheng Kin Ku Building, LSE Campus and online

Many conversations about sustainability and climate-change focus on activities on land – the green part of our planet. This misses a vital part of the puzzle, the role that our oceans play.
---
Ocean and Coastal Futures - Bursary
As part of our commitment to encouraging and supporting diversity, equity and inclusion, Ocean and Coastal Futures is launching its first Coastal Futures Bursary in partnership with Esmée Fairbairn Foundation. This opportunity is open for young people aged 18 to 30 years old, who are currently underrepresented in the marine and coastal sector and face financial barriers to attending. Individuals do not have to be working or studying in the sector currently but must reside in the UK.
---
CLASS Modelling Workshop 2024
The CLASS Programme is hosting a Modelling Workshop in early 2024. This is aimed at UK participants only. Event details and criteria to sign up are available here.
---