European Geosciences Unions General Assembly 2015- Vienna, Austria
Craig Smeaton
University of St-Andrews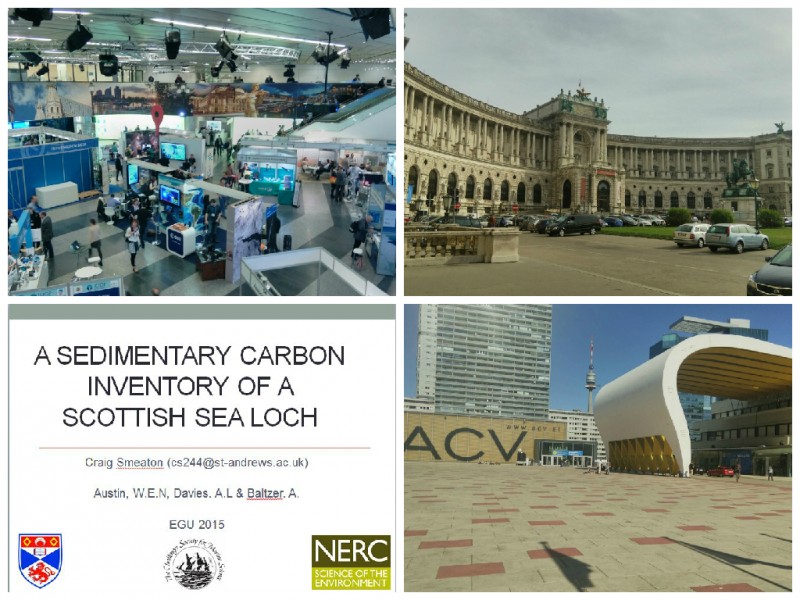 Profile
I am a 2nd year PhD student working with Dr William Austin and Dr Althea Davies on the long term storage of particulate carbon in Scottish coastal waters. The work focuses on quantifying the carbon held within the sediment of Scottish sea lochs (fjords) and determining the long term drivers of carbon transfer  from the terrestrial to the marine environment.
Twitter Post (140 Characters)
4870 talks and 8489 posters in 5 days, EGU 2015 was an amazing experience, thanks for the help @challengersoc.
Blog – Post
I would like to thank the Challenger Society for a travel award enabling me to attend EGU 2015 in Vienna. The conference took place between the 12th and 17th of April, the conference itself is on a different scale to anything else I have previously experienced with 11837 attendees from 108 countries.  In truth at first the experience in intimating but that quickly wears off once you attend your first session.
With 577 different sessions there was massive choice of talks on offer; on the whole I stuck to the biogeoscinece, ocean and sedimentology sessions. I also attended climate and planetary science sessions these session are not related to my work but the talks were extremely interesting especially the session on the Rosetta mission.
My talk "A Carbon Inventory for a Scottish Sea Loch" took place on Tuesday morning; it was part of the Biogeosciences of the Coastal and Shelf Seas session.  The talk went down well and I got some useful input from the audience.
During the week I went to a number of academic/social events such as the IODP Town Hall Meeting and the Geological Society of London reception. Here I met friends and made contacts that I hope will be useful in my future research. 
Overall, the conference was a great experience the vast amount of different science present was inspiring.  Thank you to the Challenger Society for helping to make it happen.
Latest News
The oceans, the blue economy and implications for climate change event
The oceans, the blue economy and implications for climate change
Date: 29 November 2023, 6:30 pm - 8:00 pm
Speaker: Rupert Howes, Joanna Post, Dr John Siddorn, Dr Siva Thambisetty, Professor Elizabeth Robinson, Dr Darian McBain
Venue: Sheikh Zayed Theatre, Cheng Kin Ku Building, LSE Campus and online

Many conversations about sustainability and climate-change focus on activities on land – the green part of our planet. This misses a vital part of the puzzle, the role that our oceans play.
---
Ocean and Coastal Futures - Bursary
As part of our commitment to encouraging and supporting diversity, equity and inclusion, Ocean and Coastal Futures is launching its first Coastal Futures Bursary in partnership with Esmée Fairbairn Foundation. This opportunity is open for young people aged 18 to 30 years old, who are currently underrepresented in the marine and coastal sector and face financial barriers to attending. Individuals do not have to be working or studying in the sector currently but must reside in the UK.
---
CLASS Modelling Workshop 2024
The CLASS Programme is hosting a Modelling Workshop in early 2024. This is aimed at UK participants only. Event details and criteria to sign up are available here.
---