Deep-Sea Biology Symposium 2015: Portugual
Paris Stefanoudis
NOCS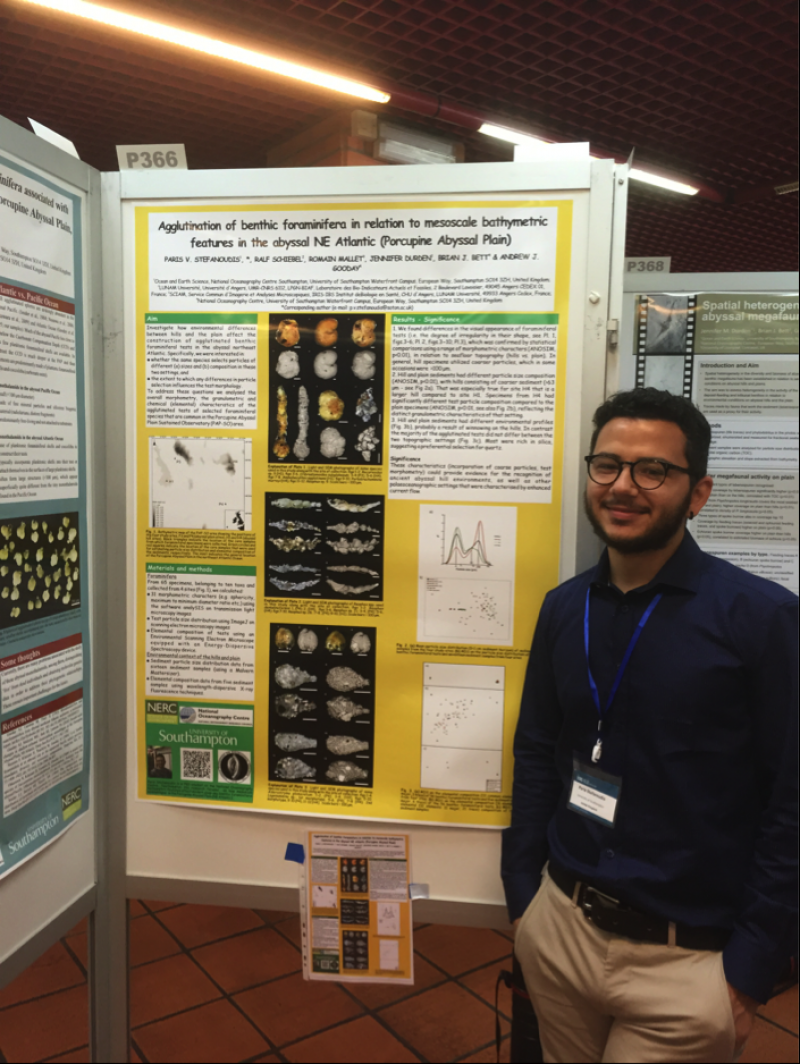 The 14th Deep-Sea Biology Symposium (DSBS) in Aveiro, Portugal was a great meeting point for deep-sea biologists and ecologist from all around the world. With about 400 participants from more than 30 countries (around 50% were students), 200 talks and 200 posters and several side and working group meetings (e.g. DOSI and INDEEP), I was constantly bumping into someone whose papers inspired me throughout my studies in marine biology. During my stay there I got constructive comments on my PhD project, parts of which I presented in one oral and two poster communications, from several experts in the field. There also was a student mixer from the Dee-Sea Biology Society which enabled PhD's from all around the world to meet and discuss about their research in a friendly and informal atmosphere. Last but not least, I have to give credit to the organizing committee of the University of Aveiro for making sure everything ran smoothly (even the weather was great!). Special thanks to the Challenger Society for providing me with a travel award and thus giving me the opportunity to attend this great scientific meeting. Now I am back in Southampton to continue my work, but I am already anticipating the next DSBS conference in 2018 at the Monterey Bay Aquarium Research Institute, Monterey, USA.

Profile of myself

Name: Paris Stefanoudis

Email: p.v.stefanoudis@soton.ac.uk

Contact Address: Waterfront Campus, European Way, National Oceanography Centre, Southampton, SO14 3ZH, UK

Status: 3rd-year PhD student at the University of Southampton, National Oceanography Centre, Southampton

Research area: Deep-Sea Biology/Ecology

PhD title: Effect of seafloor topography on deep-sea benthic foraminiferal assemblages: a paradigm from the Porcupine Abyssal Plain, NE Atlantic

Short-twitter style post

14 DSBS, Aveiro, Portugal: great people, excellent talks, and "deep" discussions over tasty Portuguese dishes.
Latest News
MEDIN Open Meeting - Enhancing the national framework for sharing UK marine data
We are excited to invite you to the next MEDIN Open Meeting entitled "Enhancing the national framework for sharing UK marine data." on April 26th 2023.
---
Challenger Expedition Portal
Check out the Challenger Expedition Portal created by SAMS: https://challenger-expedition.sams.ac.uk/

---
Upscaling of Marine Autonomy: Marine research community consultation
Upscaling of Marine Autonomy: Marine research community consultation

A recommendation of the landmark Net Zero Oceanographic Capability (NZOC) report was that "NERC should expect to double the size of the autonomous fleet it supports every five years." In response, the NOCA and the Challenger Society for Marine Science have formed the joint Upscaling Autonomy Working Group (UAWG). The UAWG is running a series of information webinars, followed by a consultation, on the future shape of upscaling of marine autonomy in the UK. For further details and to register, please see the event flyer which may also be found on the NOCA web page which now also features the presentations from the first webinar and survey questions.
---