Ocean Sciences 2016: New Orleans
Craig Smeaton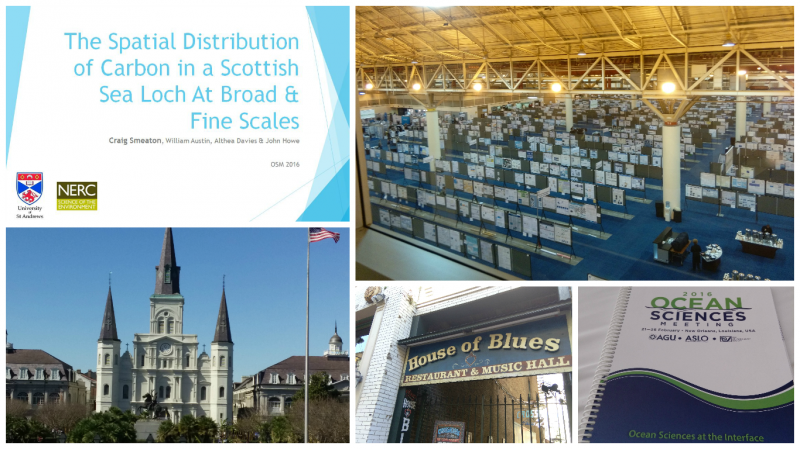 The Ocean Science Meeting (OSM) happens every two years and attracts poster and oral presentations from across the globe. The conference brings together all forms of ocean and marine science ranging from ecosystem science to physical oceanography and everything in between; this makes it the ideal place to present multidisciplinary research such as my own.

The week started off with a bang with Tornados in the surrounding county and high winds and rain hitting the city but this did not put a dampener on the conference. Early in the week I attended the Early Career icebreaker and networking events were I met up with colleagues and friends. 

During the week I attend sessions on both my topic area and sessions with no direct connection to my research such as the Oceanography of Saturn's Methane Seas. The sessions which I attend were all interesting and many presentations had some relevance to my work. Of particular interest was a number of talks by scientist currently working on NERC's Biogeochemistry of Shelfs Sea program which gave me insight into some of the carbon cycling processes which my research does not touch upon. There were hundreds of posters on display and many were of interest to me; a number of these focused my mind on ideas that I have be contemplating and I' am know keen to try some off these ideas out in the near future.

On Thursday the 25th I gave my presentation "The Spatial Distribution of Carbon in a Scottish Sea Loch: Broad and Fine Scale Observations" within the session EC41B: Understanding the Coastal Carbon Cycle and Biogeochemical Processes in the Coastal Ocean: Observations and Modeling. The presentation was well received and has resulted in the offer of additional analytical work and possible future collaboration with one of the leaders in the research area.

Apart from the academic and networking side of the conference I got to experience the city of New Orleans which is unlike any other place I have visited in the US before. There was great sights, foods and experiences throughout New Orleans but the French Quarter of the city was the highlight for me.

Again I am thankful for the support from the Challenger Society to attend OSM 16 and present my research and experience New Orleans.
Latest News
The oceans, the blue economy and implications for climate change event
The oceans, the blue economy and implications for climate change
Date: 29 November 2023, 6:30 pm - 8:00 pm
Speaker: Rupert Howes, Joanna Post, Dr John Siddorn, Dr Siva Thambisetty, Professor Elizabeth Robinson, Dr Darian McBain
Venue: Sheikh Zayed Theatre, Cheng Kin Ku Building, LSE Campus and online

Many conversations about sustainability and climate-change focus on activities on land – the green part of our planet. This misses a vital part of the puzzle, the role that our oceans play.
---
Ocean and Coastal Futures - Bursary
As part of our commitment to encouraging and supporting diversity, equity and inclusion, Ocean and Coastal Futures is launching its first Coastal Futures Bursary in partnership with Esmée Fairbairn Foundation. This opportunity is open for young people aged 18 to 30 years old, who are currently underrepresented in the marine and coastal sector and face financial barriers to attending. Individuals do not have to be working or studying in the sector currently but must reside in the UK.
---
CLASS Modelling Workshop 2024
The CLASS Programme is hosting a Modelling Workshop in early 2024. This is aimed at UK participants only. Event details and criteria to sign up are available here.
---