World Seabird Conference 2015: Cape Town
Gemma Clucas
Univeristy of Southampton and University of Oxford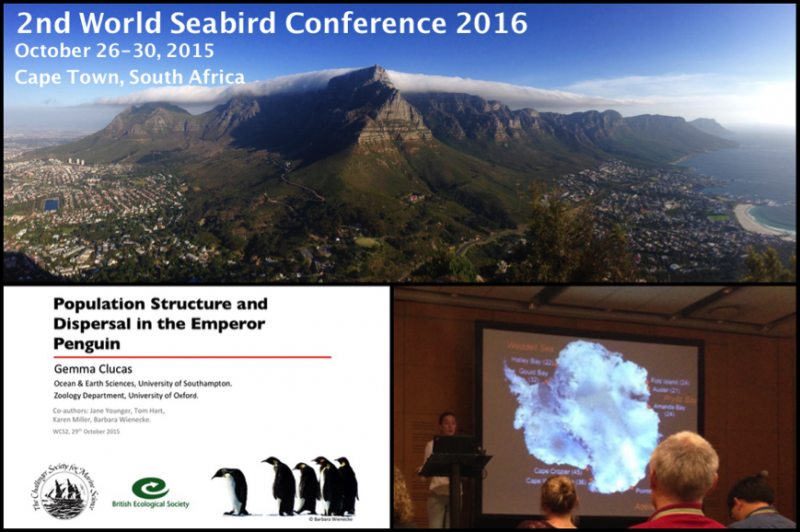 A Challenger Society Travel Award allowed me to attend the World Seabird Conference in Cape Town in October 2015. The conference is only held every five years, and so it brings together seabird ecologists from all over the world. This year, nearly 600 delegates from 42 countries attended the four-day conference, and a third of the delegates were students, which gave it a very open and accessible atmosphere. The conference organisers had also done a great job of mixing the right amount of presentations and poster sessions with a good number of fun social events, such as the speedy seabird social, which was like speed dating but for networking scientists. This meant that there were many great opportunities for meeting people, which will hopefully lead to future collaborations.

On the second-to-last day of the conference I presented some of my PhD research in a short presentation entitled, "Population Structure and Dispersal in Emperor Penguins." This included the results of a population genomic study I have been conducting on Emperor penguins from eight colonies around Antarctica.

After my talk I had some interesting discussions with population modelers who are trying to predict how climate change will affect emperor penguins using global climate change projections. If I can quantify exactly how much migration occurs in Emperor penguins using genomic techniques, then this could feed directly into population models to increase the accuracy of their predictions, which would be a really exciting outcome.

Overall the conference was a really worthwhile and interesting event for me to attend and I would like to thank the Challenger Society for their support.

Profile I am a 3rd year PhD student working on the population genetics of penguins around Antarctica. I am based partly at the University of Southampton and partly at the University of Oxford, working with Dr. Tom Hart and Dr. Gareth Dyke. My work focuses on identifying the processes that cause populations to become genetically differentiated from one another, and how this leads to speciation. Twitter Post Thanks @challengersoc for helping me get to #WSC2. Great fun and brilliant presenting my research to such a relevant audience.
Latest News
MEDIN Open Meeting - Enhancing the national framework for sharing UK marine data
We are excited to invite you to the next MEDIN Open Meeting entitled "Enhancing the national framework for sharing UK marine data." on April 26th 2023.
---
Challenger Expedition Portal
Check out the Challenger Expedition Portal created by SAMS: https://challenger-expedition.sams.ac.uk/

---
Upscaling of Marine Autonomy: Marine research community consultation
Upscaling of Marine Autonomy: Marine research community consultation

A recommendation of the landmark Net Zero Oceanographic Capability (NZOC) report was that "NERC should expect to double the size of the autonomous fleet it supports every five years." In response, the NOCA and the Challenger Society for Marine Science have formed the joint Upscaling Autonomy Working Group (UAWG). The UAWG is running a series of information webinars, followed by a consultation, on the future shape of upscaling of marine autonomy in the UK. For further details and to register, please see the event flyer which may also be found on the NOCA web page which now also features the presentations from the first webinar and survey questions.
---