24th International Association for People-Environment Studies Conference (IAPS 24): Sweden
Rebecca Shellock
Plymouth Marine Laboratory and University of Exeter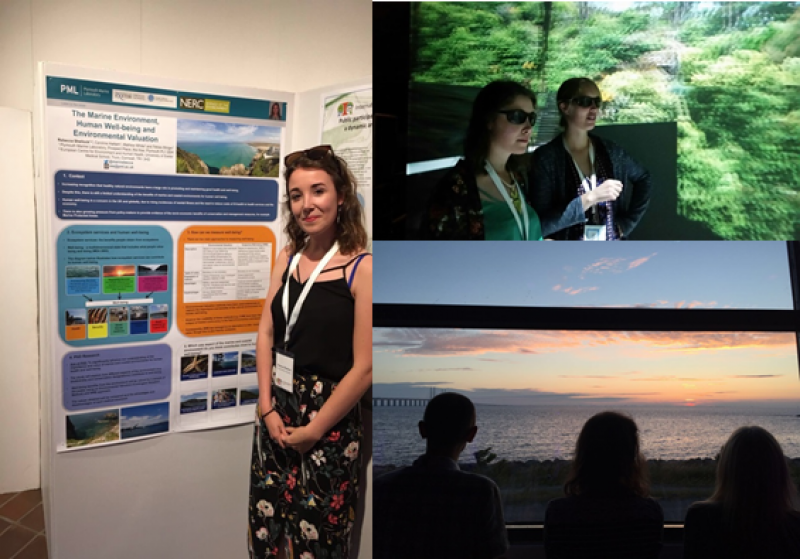 I would like to thank the Challenger Society for Marine Science for granting me a Travel Award to attend the 24th International Association for People-Environment Studies Conference (IAPS 24) in Lund, Sweden. The conference was a fantastic learning experience for me and it would not have been possible to attend without the Society's generous support.

The IAPS 24 conference was organised by the International Association for People and the Environment studies, one of the largest communities that specialises in the study of the relationship between humans and the natural environment. The conference brought together environmental psychologists, planners, architects, geographers and health scientists in order to: (1) improve our understanding of how natural environments contribute to people's quality of life, well-being and health and (2) develop multidisciplinary perspectives to address complex environmental issues.

My PhD is interdisciplinary and crosses the boundaries of marine science, environmental economics, environmental psychology and medical science. As a marine biologist by background, the IAPS 24 conference provided me with a vital opportunity to learn more about the field of environmental psychology, a core component of my PhD. I attended a range of interesting sessions on 'restorative environments', which explored the impacts of blue and green environments on people's health and well-being. This provided me with a breadth of knowledge as well as the confidence to apply it to a marine and coastal context at my research institution. In addition to this, the conference provided me with a great opportunity to present the initial stages of my PhD research to a multidisciplinary audience. I presented a poster entitled: 'The Marine Environment, Human Well-being and Environmental Valuation'. The poster session enabled me to gain ideas and feedback from researchers from all over the world. In addition to this, I was lucky enough to meet with researchers from the BlueHealth project and visit the Virtual Reality Lab at Lund University. Overall, this learning and networking opportunity has helped to shape my research, inspired new ideas for future work and initiated new collaborations.

Profile:

Rebecca Shellock is a first year PhD student at Plymouth Marine Laboratory and the European Centre for Environment and Human Health (University of Exeter). Her PhD aims to advance our understanding of the importance and value of marine and coastal environments for human health and well-being, using approaches from economics and psychology. Before starting her PhD in 2015, Rebecca worked as a Research Assistant for the Centre for Marine and Coastal Policy (MarCoPol) and completed a BSc in Biology and Animal Behaviour at the University of Exeter and an MRes in Marine Biology at Plymouth University and the Marine Biological Association.
Latest News
The oceans, the blue economy and implications for climate change event
The oceans, the blue economy and implications for climate change
Date: 29 November 2023, 6:30 pm - 8:00 pm
Speaker: Rupert Howes, Joanna Post, Dr John Siddorn, Dr Siva Thambisetty, Professor Elizabeth Robinson, Dr Darian McBain
Venue: Sheikh Zayed Theatre, Cheng Kin Ku Building, LSE Campus and online

Many conversations about sustainability and climate-change focus on activities on land – the green part of our planet. This misses a vital part of the puzzle, the role that our oceans play.
---
Ocean and Coastal Futures - Bursary
As part of our commitment to encouraging and supporting diversity, equity and inclusion, Ocean and Coastal Futures is launching its first Coastal Futures Bursary in partnership with Esmée Fairbairn Foundation. This opportunity is open for young people aged 18 to 30 years old, who are currently underrepresented in the marine and coastal sector and face financial barriers to attending. Individuals do not have to be working or studying in the sector currently but must reside in the UK.
---
CLASS Modelling Workshop 2024
The CLASS Programme is hosting a Modelling Workshop in early 2024. This is aimed at UK participants only. Event details and criteria to sign up are available here.
---