4th International Marine Conservation Congress (IMCC4): Canada
Laura A. Friedrich
Plymouth University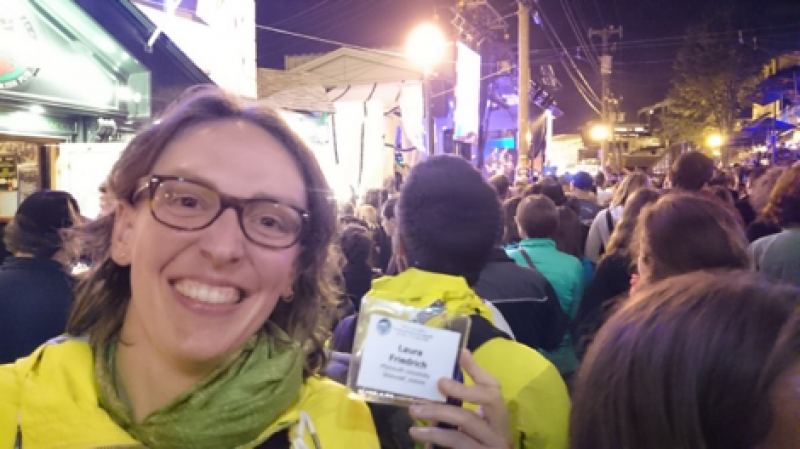 Image caption: Diving into local culture at the George Street Festival

Thanks to the Challenger Travel Award I was able to attend the 4th International Marine Conservation Congress (IMCC4) which was held from the 30th July to the 3rd August in St. John's, Newfoundland and Labrador, Canada. The IMCC series are organised by the marine section of the Society for Conservation Biology and are one of the key international meetings for marine conservation scientists and professionals. Coming to the end of my PhD journey this year, IMCC4 provided a perfect opportunity for me to present the outcomes of my research. My talk on 'The ecosystem services approach as a tool to improve stakeholder engagement in marine management' was part of a session entitled Communicating Science.

Communicating science, building links and enabling collaboration between scientists, marine conservation professionals, as well as the wider marine user community and general public were key themes at this conference which ran under the motto Making Science Matter. This was reflected in the wide range of attendants, sessions and topics covered by the talks. IMCC4 brought together an interdisciplinary range of marine conservation scientists – from deep sea ecologists to social scientists – and marine conservation practitioners from governmental and non-governmental institutions. There were sessions on marine planning and policy, fisheries management and citizen science. The talks covered all the hot topics of marine conservation, from invasive species and marine protected areas to plastic pollution, climate change, deep sea mapping and management of the high seas.

My personal highlight was a session on sharks which summed up nicely the interdisciplinary and intersectoral approach of the conference. I tweeted the following about this session: 'Great session on sharks at #IMCC4 from a science, conservation and policy perspective #flatsharksneedlove2'.

Last, but by no means least, IMCC4 offered plenty of opportunities for socialising and networking, be it at the opening reception where the delegates were welcomed by two bear like friendly Newfoundland dogs, over lunch at the local Rocket Café with its friendly staff, out at sea watching whales and puffins, or at the George Street Music Festival.

I started my career as a scientist with a combined graduate/postgraduate degree in Environmental Sciences at the University of Lüneburg, Germany, (2004 to 2010) which spanned from the natural sciences to the social sciences with the aim of integrating and communicating between the different disciplines. I then moved towards a marine focus with an MSc in Marine Policy and Planning at Plymouth University (2010-2011) and am now coming to the end of my Marine Sciences PhD looking at the potential of the ecosystem services approach to support stakeholder and public engagement in marine governance. From the beginning of my scientific career, I saw my role at the interface between the natural and social sciences and between the worlds of scientific research and marine governance practice. IMCC4, with its interdisciplinary approach and aim to make science matter, fitted in perfectly with my interests and aspirations.

Therefore, to conclude, I want to thank the Challenger Society one more time for enabling me to travel to St. John's and attend IMCC4.
Latest News
The oceans, the blue economy and implications for climate change event
The oceans, the blue economy and implications for climate change
Date: 29 November 2023, 6:30 pm - 8:00 pm
Speaker: Rupert Howes, Joanna Post, Dr John Siddorn, Dr Siva Thambisetty, Professor Elizabeth Robinson, Dr Darian McBain
Venue: Sheikh Zayed Theatre, Cheng Kin Ku Building, LSE Campus and online

Many conversations about sustainability and climate-change focus on activities on land – the green part of our planet. This misses a vital part of the puzzle, the role that our oceans play.
---
Ocean and Coastal Futures - Bursary
As part of our commitment to encouraging and supporting diversity, equity and inclusion, Ocean and Coastal Futures is launching its first Coastal Futures Bursary in partnership with Esmée Fairbairn Foundation. This opportunity is open for young people aged 18 to 30 years old, who are currently underrepresented in the marine and coastal sector and face financial barriers to attending. Individuals do not have to be working or studying in the sector currently but must reside in the UK.
---
CLASS Modelling Workshop 2024
The CLASS Programme is hosting a Modelling Workshop in early 2024. This is aimed at UK participants only. Event details and criteria to sign up are available here.
---