Biennial Challenger Conference: Liverpool
Ian Campbell
SAMS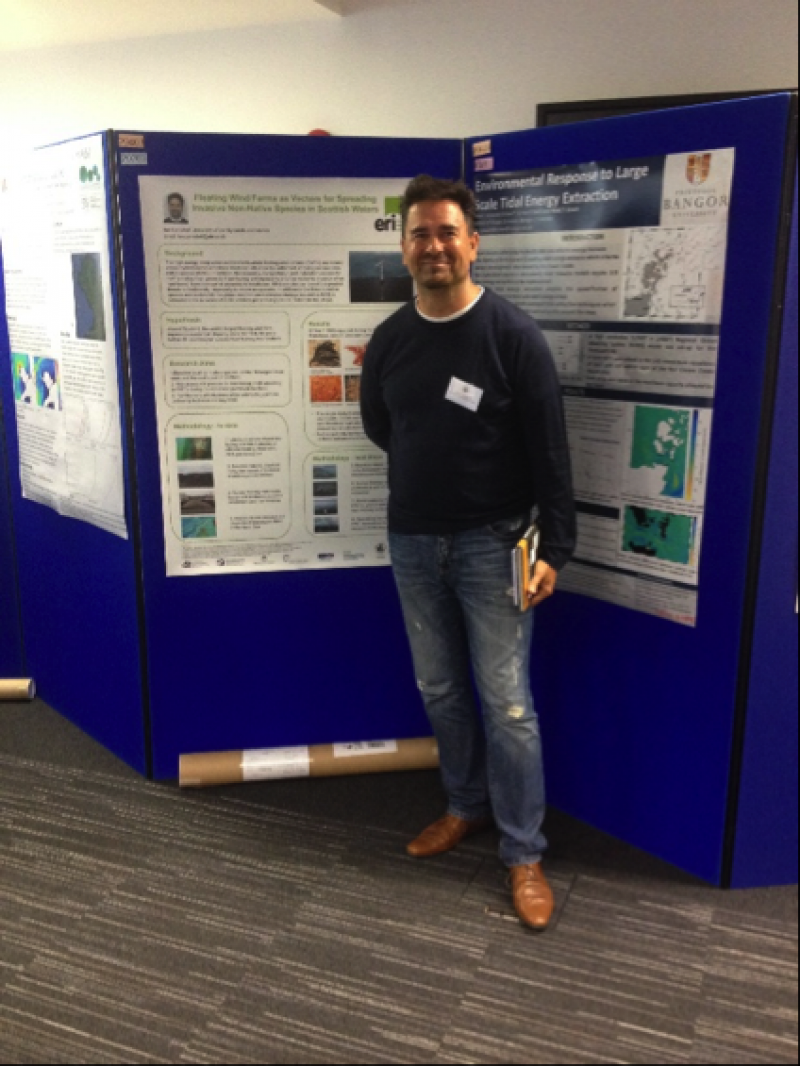 I would like to thank the Challenger Society for Marine Science for giving me the opportunity to attend the 17th Biennial Challenger Conference in Liverpool. Attending the conference represented a number of significant 'firsts' during my first year as a PhD student; the attendance of my first research conference, active participation through my first poster presentation and the opportunity to present my research to experienced scientists as well as other postgraduate students.

The four-day conference was held at the University of Liverpool and attracted a cross section of attendees covering a diverse range of research disciplines from physical coastal processes to renewable and low carbon energy (my own areas of interest) and marine biogeochemistry. What I found fascinating was that many attendees were keen to attend sessions outside of their specialist area of research and comfort zone. This made for an exciting mix of questions to those who were presenting and some interesting discussions over dinner, which was held at the stunning Liverpool Anglican Cathedral.

As a first year PhD Student I registered for a mentor, who did an excellent job of helping me navigate the various sessions, giving me advice on how to present my poster and generally advising me on how to get the best over a very busy four days. I am pleased to say my research poster "Floating wind farms for spreading invasive non-native species into Scottish Waters" attracted attention from both postgraduate students and scientists alike and the preparatory session "What makes a good poster?" presented by the UK Branch of the Association of Polar Early Career Scientists (APECS), offered some excellent tips on good poster design and how to engage by producing A4 posters as fliers, whilst having printed research manuscripts to hand. Neither of which I managed to achieve but 'top tips' for next time!

Having the opportunity to answer questions on my proposed methodology from a variety of researchers from very different fields of research really kept me on my toes, reminding me of the importance of tailoring how I communicate my work to different audiences.

I wasn't really sure what to expect from attending Challenger but the Conference, the University of Liverpool, the people I met and the friends I made, exceeded any of my expectations. I would like to thank the Challenger Society once again for giving me such a great learning opportunity and a superb 'springboard' for my PhD.

Profile:

I am a Phd student at the Scottish Association for Marine Science in Oban. My research is based on the Hywind Scotland Wind Farm, investigating floating wind farms for spreading invasive non-native species into Scottish Waters.
Latest News
The oceans, the blue economy and implications for climate change event
The oceans, the blue economy and implications for climate change
Date: 29 November 2023, 6:30 pm - 8:00 pm
Speaker: Rupert Howes, Joanna Post, Dr John Siddorn, Dr Siva Thambisetty, Professor Elizabeth Robinson, Dr Darian McBain
Venue: Sheikh Zayed Theatre, Cheng Kin Ku Building, LSE Campus and online

Many conversations about sustainability and climate-change focus on activities on land – the green part of our planet. This misses a vital part of the puzzle, the role that our oceans play.
---
Ocean and Coastal Futures - Bursary
As part of our commitment to encouraging and supporting diversity, equity and inclusion, Ocean and Coastal Futures is launching its first Coastal Futures Bursary in partnership with Esmée Fairbairn Foundation. This opportunity is open for young people aged 18 to 30 years old, who are currently underrepresented in the marine and coastal sector and face financial barriers to attending. Individuals do not have to be working or studying in the sector currently but must reside in the UK.
---
CLASS Modelling Workshop 2024
The CLASS Programme is hosting a Modelling Workshop in early 2024. This is aimed at UK participants only. Event details and criteria to sign up are available here.
---