Biennial Challenger Conference: Liverpool
Ian Campbell
SAMS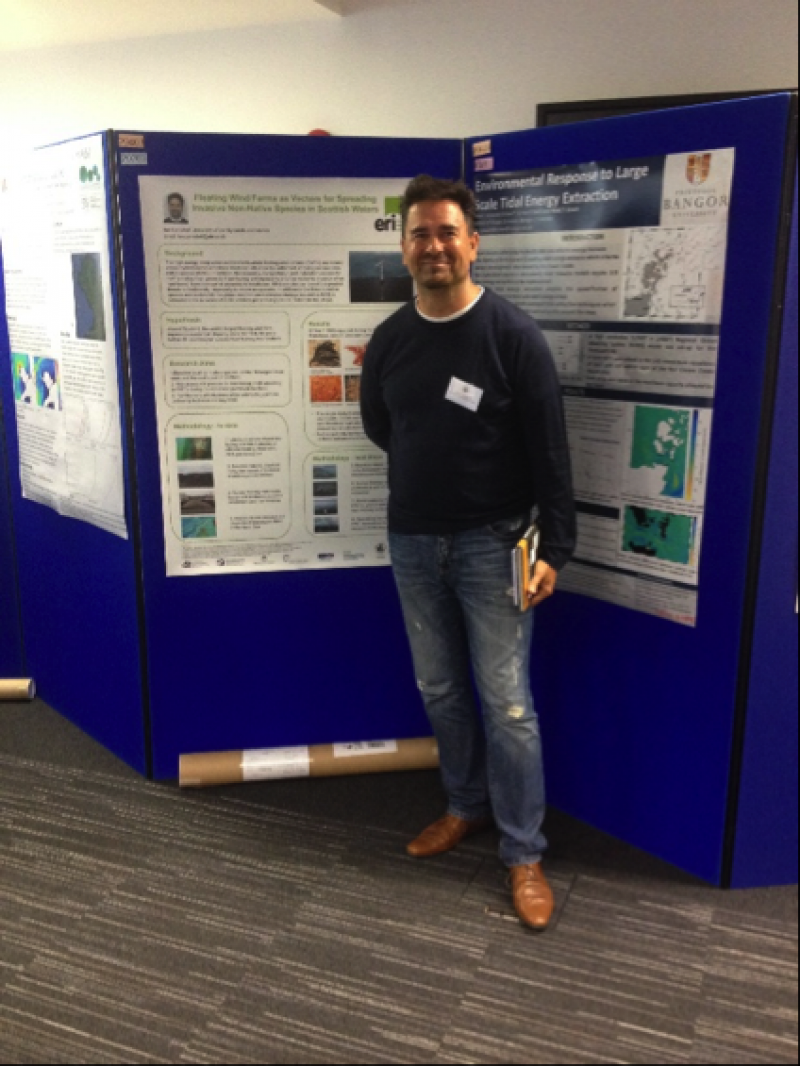 I would like to thank the Challenger Society for Marine Science for giving me the opportunity to attend the 17th Biennial Challenger Conference in Liverpool. Attending the conference represented a number of significant 'firsts' during my first year as a PhD student; the attendance of my first research conference, active participation through my first poster presentation and the opportunity to present my research to experienced scientists as well as other postgraduate students.

The four-day conference was held at the University of Liverpool and attracted a cross section of attendees covering a diverse range of research disciplines from physical coastal processes to renewable and low carbon energy (my own areas of interest) and marine biogeochemistry. What I found fascinating was that many attendees were keen to attend sessions outside of their specialist area of research and comfort zone. This made for an exciting mix of questions to those who were presenting and some interesting discussions over dinner, which was held at the stunning Liverpool Anglican Cathedral.

As a first year PhD Student I registered for a mentor, who did an excellent job of helping me navigate the various sessions, giving me advice on how to present my poster and generally advising me on how to get the best over a very busy four days. I am pleased to say my research poster "Floating wind farms for spreading invasive non-native species into Scottish Waters" attracted attention from both postgraduate students and scientists alike and the preparatory session "What makes a good poster?" presented by the UK Branch of the Association of Polar Early Career Scientists (APECS), offered some excellent tips on good poster design and how to engage by producing A4 posters as fliers, whilst having printed research manuscripts to hand. Neither of which I managed to achieve but 'top tips' for next time!

Having the opportunity to answer questions on my proposed methodology from a variety of researchers from very different fields of research really kept me on my toes, reminding me of the importance of tailoring how I communicate my work to different audiences.

I wasn't really sure what to expect from attending Challenger but the Conference, the University of Liverpool, the people I met and the friends I made, exceeded any of my expectations. I would like to thank the Challenger Society once again for giving me such a great learning opportunity and a superb 'springboard' for my PhD.

Profile:

I am a Phd student at the Scottish Association for Marine Science in Oban. My research is based on the Hywind Scotland Wind Farm, investigating floating wind farms for spreading invasive non-native species into Scottish Waters.
Latest News
Ocean Modelling and AMBIO Special Interest Group 2023 Meetings
The Ocean Modelling Special Interest Group (SIG) and the Advances in Marine Biogeochemistry (AMBIO) SIG are hosting meetings in September.
---
Arctic Science Summit Week - Edinburgh UK March 2024
The Arctic Science Summit Week (ASSW) is being held in Edinburgh during the 21st-29th March 2024 and the Science Day is being held on the 26th of March 2024. For more information please see the ASSW website here: https://assw.info/program/science-day-2024


---
Heat and carbon uptake in the Southern Ocean: the state of the art and future priorities
Royal Society Publishing has recently published special issue of Philosophical Transactions A entitled Heat and carbon uptake in the Southern Ocean: the state of the art and future priorities.
---