46th Annual Benthic Ecology Meeting: USA
Katie O'Shaughnessy
Plymouth University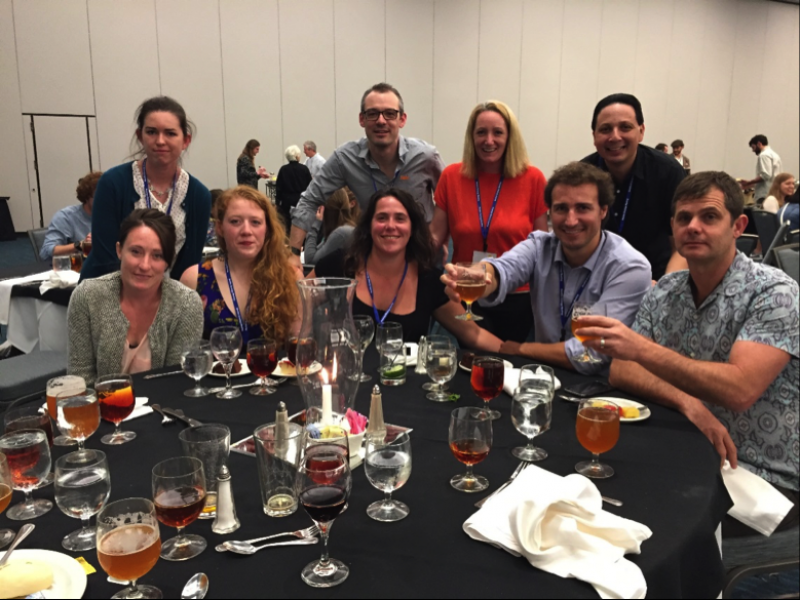 The 46th Annual Benthic Ecology Meeting (BEM) in Myrtle Beach, South Carolina, USA was a busy and information-packed 4 days covering topics under the theme, "Sustainable oceans in theory and practice." This year, topics ranged from living shorelines using oysters and cordgrass to chemical ecology of corals and sponges. Additionally, there were panel presentations from top ecologists, a "Careers and Coffee" networking session and of course the traditional "Beneath the Waves Film Festival". I was fortunate enough to not only attend the conference, but also give an oral and poster presentation on my current and past research. This was only possible because of the generous funding by the Challenger Society for Marine Science.

The BEM is traditionally held at a university along the eastern seaboard of the United States every spring, and is the premier conference for domestic and international students and early career researchers to exchange ideas and practice feeling comfortable presenting to a large audience. A panel of professionals judged all student presentations, and constructive feedback was shared with presenters at the end of the conference.

My oral presentation was titled: "Eco-engineering of coastal infrastructure: a design for life," and focused on my PhD research to date in Plymouth Sound. I generated much interest in the topic both during the Q&A session and afterwards throughout the remainder of the meeting. My poster presentation was titled: "Ecosystem restoration along the Grand Strand, South Carolina: the Coastal Oyster and Recycling and Restoration Initiative (CORRI)," which summed up much of the work I did with oyster reef restoration techniques in South Carolina.

Most valuable to me were the connections I made, both old and new. I completed my master's degree in Myrtle Beach, SC, and thus have many professional and personal contacts in the area. It was exciting for me to share my work as a PhD student with old colleagues, as it is important for scientists in similar fields to stay abreast with each other's research and aims. I walked away from the conference knowing that I contributed knowledge, and maintained and formed links across the ocean.

I want to personally say a very genuine "thank you" to the Challenger Society for making this opportunity a reality for me.


Profile:
2nd year PhD student, School of Biological and Marine Sciences, Plymouth University.
Title of PhD: "Ecological engineering of coastal infrastructure: a design for life."
Latest News
The oceans, the blue economy and implications for climate change event
The oceans, the blue economy and implications for climate change
Date: 29 November 2023, 6:30 pm - 8:00 pm
Speaker: Rupert Howes, Joanna Post, Dr John Siddorn, Dr Siva Thambisetty, Professor Elizabeth Robinson, Dr Darian McBain
Venue: Sheikh Zayed Theatre, Cheng Kin Ku Building, LSE Campus and online

Many conversations about sustainability and climate-change focus on activities on land – the green part of our planet. This misses a vital part of the puzzle, the role that our oceans play.
---
Ocean and Coastal Futures - Bursary
As part of our commitment to encouraging and supporting diversity, equity and inclusion, Ocean and Coastal Futures is launching its first Coastal Futures Bursary in partnership with Esmée Fairbairn Foundation. This opportunity is open for young people aged 18 to 30 years old, who are currently underrepresented in the marine and coastal sector and face financial barriers to attending. Individuals do not have to be working or studying in the sector currently but must reside in the UK.
---
CLASS Modelling Workshop 2024
The CLASS Programme is hosting a Modelling Workshop in early 2024. This is aimed at UK participants only. Event details and criteria to sign up are available here.
---