37th Annual Symposium on Sea Turtle Biology and Conservation: Las Vegas
Nicole Esteban
Swansea University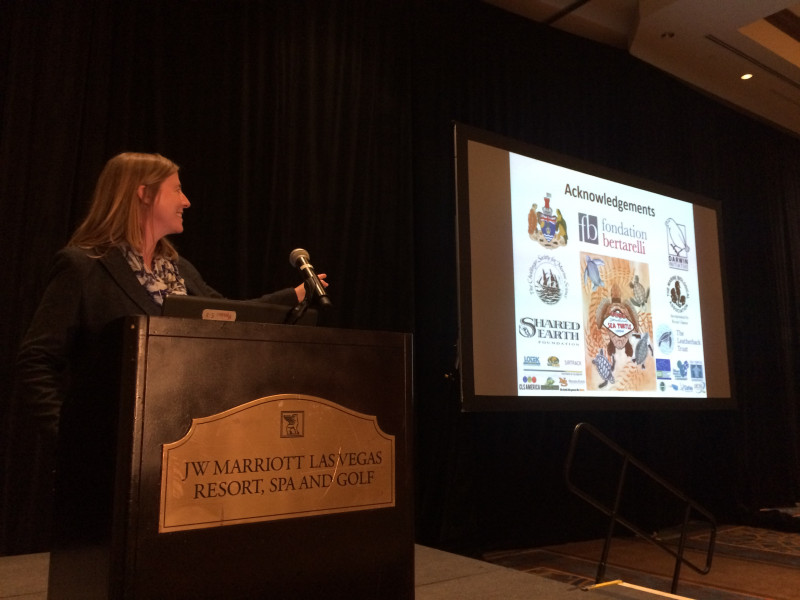 Thanks to the Challenger Society for Marine Science travel award, I was able to attend the 2017 Annual Symposium for Sea Turtle Biology and Conservation (ISTS37) which was held from 15-20 April 2017 in Las Vegas, USA. The annual ISTS conferences are one of the key international meetings for sea turtle scientists and practitioners. As I submitted my PhD thesis this year, ISTS37 provided an ideal opportunity for me to present my research and I was able to include results from three of my published chapters within my oral presentation.

My talk on 'Using Fastloc-GPS telemetry data to assess fine-scale green turtle movement and identify remote seagrass habitat in the Indian Ocean' was part of the In-Water Biology session. The research took place in the Chagos Archipelago in the central Indian Ocean, which hosts one of the world's largest Marine Protected Areas. In 2012 and 2015, we attached 18 satellite tags to green turtles (Chelonia mydas) post-nesting in Diego Garcia atoll and satellite tracked them using Fastloc-GPS telemetry. Before departing from breeding grounds in the Chagos Archipelago, green turtles laid up to nine clutches with a mean of 6 clutches per season, about twice as many nests as previously assumed for green turtles. The turtles migrated to foraging grounds ranging in distance between 75 and 4,000 km from their nesting habitat, world record-breaking for adult cheloniid turtles. Four of the green turtles settled within the Chagos Marine Reserve and provided the first evidence of foraging habitat for adult green turtles in the Chagos Archipelago. Ten of them settled on feeding grounds in Seychelles, and four found foraging habitat along the east coast of continental Africa.

My talk describes how we analysed fine-scale movement of the green turtles in different foraging areas in the Indian Ocean to show that individuals exhibit both diel and seasonal patterns in activity and home range size. At night, turtles had separate, smaller home ranges and lower activity levels, suggesting they were resting. In daytime, home ranges were larger and activity levels higher, indicative of active feeding. In 2016, I carried out ground truthing surveys at five of the foraging sites (day and night-time sites) on the Great Chagos Bank (GCB) that were identified by this satellite tracking study. Extensive meadows of seagrass Thalassodendron ciliatum were identified at depths ranging from 23-30 m along the shallowest parts of the largely unsurveyed GCB. The Great Chagos Bank is the world's largest living coral atoll; and seagrass habitat had not been previously reported there. My talk concluded that spatiotemporal variations in habitat (seagrass) quality are likely having a bottom-up effect on the diurnal and seasonal pattern in green turtle home range sizes. I also highlighted the value of new generation of Fastloc-GPS Argos tags for resolving details of sea turtle movements at small scales.

Whilst at the ISTS37, I had the opportunity to attend the Indian Ocean and South East Asia regional workshop and present highlights of my research on sea turtles in the Chagos Archipelago. As a result, I was able to set up future research with collaborators in the Seychelles and French Indian Ocean Territories.

To conclude, I would like to thank the Challenger Society for Marine Science for the travel award, without which I would have been unable to attend the conference.



Profile:
Nicole has a BSc Marine Biology and MSc Tropical Coastal Management. Shortly after the Symposium, Nicole Esteban graduated with a PhD from Swansea University. Her PhD research focused on the ecology of sea turtles in the Caribbean Sea and Indian Ocean. Prior to commencing her part-time PhD (alongside project management work in the Bioscience Department at Swansea University), Nicole worked for eight years as a Marine Park Manager on the Caribbean island of St Eustatius.

Acknowledgements:
Thanks to collaborators and co-authors: Professor Graeme Hays, Dr Jeanne Mortimer, Dr Fredrik Christiansen, Pep Nogués and Pierre-André Adam.
Latest News
The oceans, the blue economy and implications for climate change event
The oceans, the blue economy and implications for climate change
Date: 29 November 2023, 6:30 pm - 8:00 pm
Speaker: Rupert Howes, Joanna Post, Dr John Siddorn, Dr Siva Thambisetty, Professor Elizabeth Robinson, Dr Darian McBain
Venue: Sheikh Zayed Theatre, Cheng Kin Ku Building, LSE Campus and online

Many conversations about sustainability and climate-change focus on activities on land – the green part of our planet. This misses a vital part of the puzzle, the role that our oceans play.
---
Ocean and Coastal Futures - Bursary
As part of our commitment to encouraging and supporting diversity, equity and inclusion, Ocean and Coastal Futures is launching its first Coastal Futures Bursary in partnership with Esmée Fairbairn Foundation. This opportunity is open for young people aged 18 to 30 years old, who are currently underrepresented in the marine and coastal sector and face financial barriers to attending. Individuals do not have to be working or studying in the sector currently but must reside in the UK.
---
CLASS Modelling Workshop 2024
The CLASS Programme is hosting a Modelling Workshop in early 2024. This is aimed at UK participants only. Event details and criteria to sign up are available here.
---