Ocean Sciences Meeting: Portland, USA
Hoa Nguyen
University of Strathclyde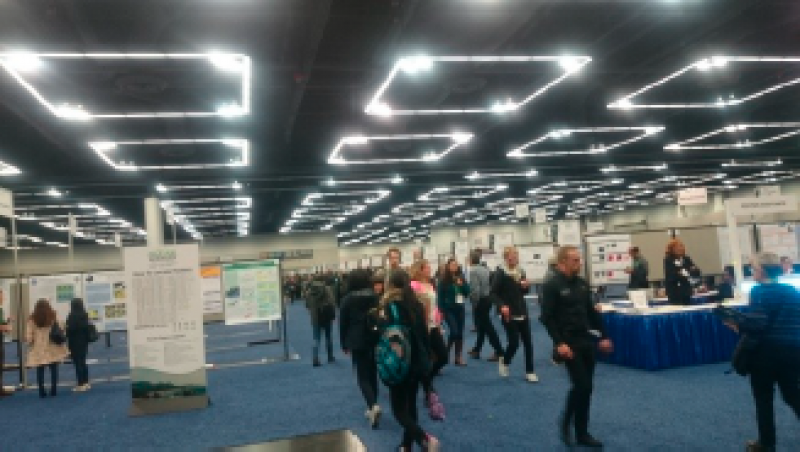 I was awarded the Challenger Society Travel Award to present a poster at the 2018 Ocean Science Meeting (OSM). The meeting was held in Portland, Oregon, USA from 11 – 16 February 2018.

The OSM is held on a biennial basis and has a long history. The OSM provides a gathering place for academics who work on all areas of ocean science. This year there were over 5300 attendees with 2000 talks and 3000 posters delivered. The meeting covered a broad range of marine science disciplines. Apart from knowledge exchange such as talks, poster presentations, and informal chats, there were many sideline activities offering the potential for new connections and opportunities. These included recruitment agencies, advice on making the most of mentoring relationships, advice on developing grant proposals, activities for students and early career scientists, for example: Student and Early Career Workshop, Student Pop-Up Talks, Student mixer, Tips for a Successful Manuscript Submission, How to write Effective Reviews and Improve Your Own Manuscript, Interdisciplinary Presentation Workshop and Tips on building a successful Manuscript. There were a considerable number of slots for communicating science to public e.g Science Communication Lab, Communicating Science Through Storytelling, The Art of Science Storytelling and Sharing Science with Any Audience Workshop. Lastly, the OSM provided entertainment programs at the end of the day e.g. jam section, film screening and a Fun Run to give attendees a bit of much needed exercise!

With numerous interesting talks and activities, it was impossible to get a taste of everything. It was sometimes difficult to choose which talk or activity to attend. Though I inevitably missed out on a lot of interesting talks, I was able to catch talks related to my field of study and gain inspiration from others. Plenary talks were the most impressive, not only on the knowledge, but also on the passion for science that speakers passed on to the audience. "Work on problems you most enjoy. Strange things can happen underway." Walter Munk, and "if you stick to something long enough, you'll get there eventually", take-home messages from the plenary talks, will encourage anyone to pursue their passion.

The poster hall at the OSM is the largest poster hall I have ever seen. With over 3000 posters, it reflected the diversity of topics covered. During my poster section, I could catch attention of some participants, and talked to people who collected data used in my study (as my region of study is far away from where I am based). Discussion with these participants not only was useful to my study but also helped me to improve my communication skill and convey my work to others in a clear and understandable way.

Workshops were another interesting activity at the OSM 2018 that one should not miss. The Student and Early Career Workshop on Data Management, Grant Writing, and Science Communication might be the most useful for student in my opinion. I had heard of Data Management Plan before, but did not aware of its usefulness. The Data Management section has changed my perception on it. I particularly liked the Grant writing section. Delivered by NASA and NSF program manager, talks on Grant Writing were a great insight into how a funding program is organized, what is expected from a proposal, and how to establish and keep a good connection to program managers. Science communication, guided by an actor, was another fascinating story. Funny exercises on saying a word that start by the last character of the word said by previous person, or making a conversation in which sentences made by each participant based on a sentence spoken by previous one, or a pair of participant mimicked movement of another, taught us the key to make a good conversation/communication is to keep attention to the others while communicating. It was a great fun while doing these excercises, though we all ended up in unimaginable conversations and ridiculous postures.

Last but not least, the art of Science Storytelling was about how to convey your research to public in form of writing. And the magic formula AND … BUT …THEREFORE the secret recipe to tell others about your science in consice way. All in all, though there were a lot of interesting talks and activities missing out, it was a great experience to me. And, thank to Challenger Society for Marine Science partly supported me to attend such an important event for ocean scientists.
Latest News
The oceans, the blue economy and implications for climate change event
The oceans, the blue economy and implications for climate change
Date: 29 November 2023, 6:30 pm - 8:00 pm
Speaker: Rupert Howes, Joanna Post, Dr John Siddorn, Dr Siva Thambisetty, Professor Elizabeth Robinson, Dr Darian McBain
Venue: Sheikh Zayed Theatre, Cheng Kin Ku Building, LSE Campus and online

Many conversations about sustainability and climate-change focus on activities on land – the green part of our planet. This misses a vital part of the puzzle, the role that our oceans play.
---
Ocean and Coastal Futures - Bursary
As part of our commitment to encouraging and supporting diversity, equity and inclusion, Ocean and Coastal Futures is launching its first Coastal Futures Bursary in partnership with Esmée Fairbairn Foundation. This opportunity is open for young people aged 18 to 30 years old, who are currently underrepresented in the marine and coastal sector and face financial barriers to attending. Individuals do not have to be working or studying in the sector currently but must reside in the UK.
---
CLASS Modelling Workshop 2024
The CLASS Programme is hosting a Modelling Workshop in early 2024. This is aimed at UK participants only. Event details and criteria to sign up are available here.
---