AGU Fall Meeting 2018
Matteo Marasco
University of the Higlhands and Islands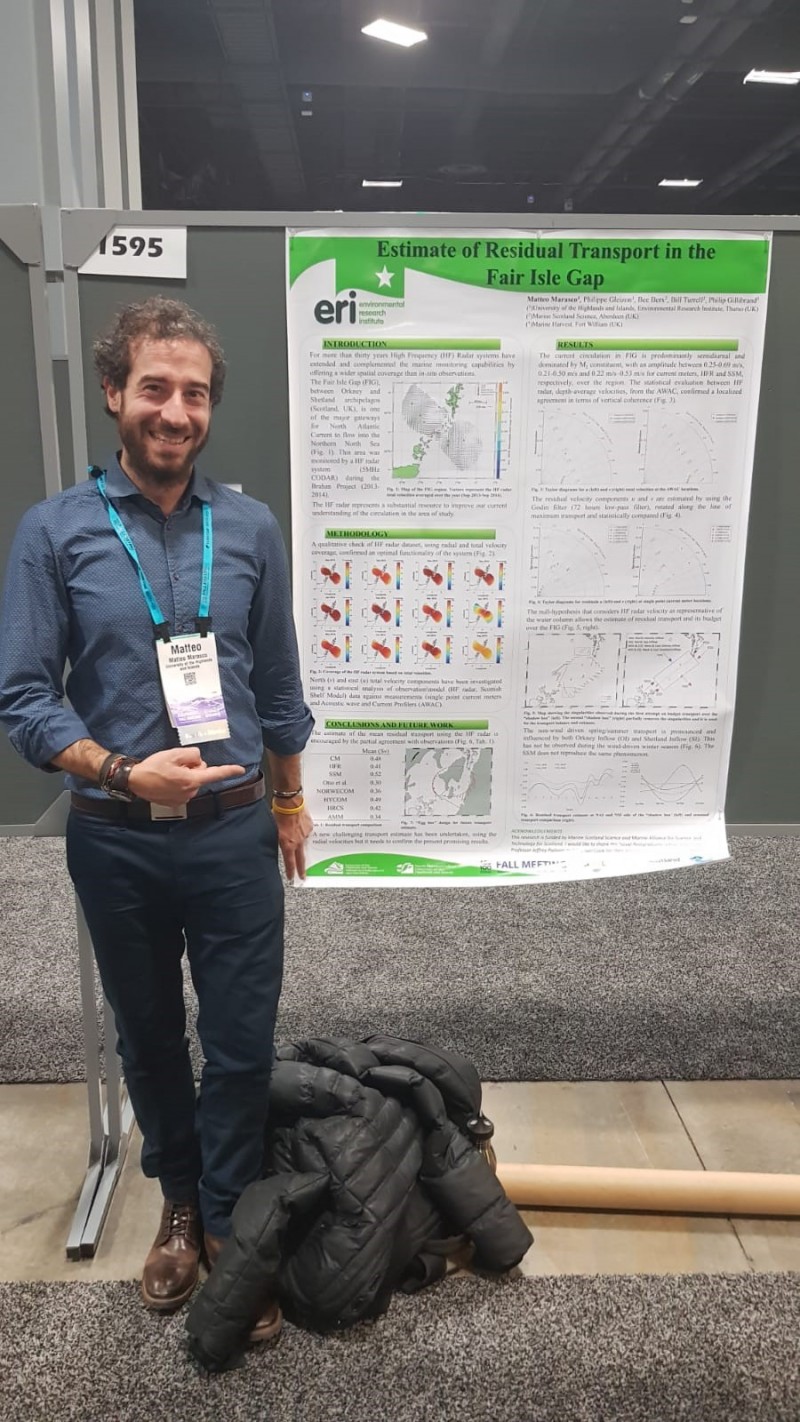 This is the second time I have been awarded for the travel Award. I am, again, very grateful to Challenger Society for the great opportunity. The price contributed to finance my attendance to the AGU Fall Meeting 2018 in Washington DC. From 9th to 14th of December, I have been in the most remarkable geophysical conference of the world which counted more than 28000 attendees!

I am undertaking the last year of my PhD in Physical Oceanography and I have spent almost three years of my research on the application of coastal High Frequency (HF) systems. The conference came at a time when I have been approaching the final stages of my studies, demonstrating the HFR use as reliable monitoring instrument over the Scottish Shelf region. In this regard, the conference dedicated a specific session on the HF radar technology (Land-Based Remote Sensing of the Coastal Ocean) where the novel HF radar data processing and system assessment techniques have been introduced. Each poster/presentation covered a broad spectrum of topics related to radio-oceanography and different high frequency and x-band radar technologies. I have been part of the Outstanding Student Presentation Awards (OSPAs) where I gave a few presentations of my poster entitled 'Residual transport estimate in the FIG'. I was delighted to be in this extraordinary scientist community, where connections, exchange of ideas and cooperation were easy to establish. The conference had systematic breaks in order to have valuable conversations about the interdisciplinary sessions and interesting non-scientific chats.

I had the unique opportunity to talk with some of the best radar experts and scientists overall, sharing with them questions and doubts about my research. I also had the chance to network with PhD students, which are exploring the radar technology from different prospective. Those meetings made a precious contribution to my personal experience. As an early researcher, the experience gained during the AGU Fall Meeting 2018 has been beneficial for the further development of my career as a researcher.

I would like also to thank Environmental Research Institute (ERI), University of the Highlands and Islands (UHI), PRIMaRE for enabling me to attend the AGU Fall Meeting 2018.
Latest News
The oceans, the blue economy and implications for climate change event
The oceans, the blue economy and implications for climate change
Date: 29 November 2023, 6:30 pm - 8:00 pm
Speaker: Rupert Howes, Joanna Post, Dr John Siddorn, Dr Siva Thambisetty, Professor Elizabeth Robinson, Dr Darian McBain
Venue: Sheikh Zayed Theatre, Cheng Kin Ku Building, LSE Campus and online

Many conversations about sustainability and climate-change focus on activities on land – the green part of our planet. This misses a vital part of the puzzle, the role that our oceans play.
---
Ocean and Coastal Futures - Bursary
As part of our commitment to encouraging and supporting diversity, equity and inclusion, Ocean and Coastal Futures is launching its first Coastal Futures Bursary in partnership with Esmée Fairbairn Foundation. This opportunity is open for young people aged 18 to 30 years old, who are currently underrepresented in the marine and coastal sector and face financial barriers to attending. Individuals do not have to be working or studying in the sector currently but must reside in the UK.
---
CLASS Modelling Workshop 2024
The CLASS Programme is hosting a Modelling Workshop in early 2024. This is aimed at UK participants only. Event details and criteria to sign up are available here.
---