13th International Conference on Paleoceanography (ICP13)
Sveta Radionovskaya
University of Cambridge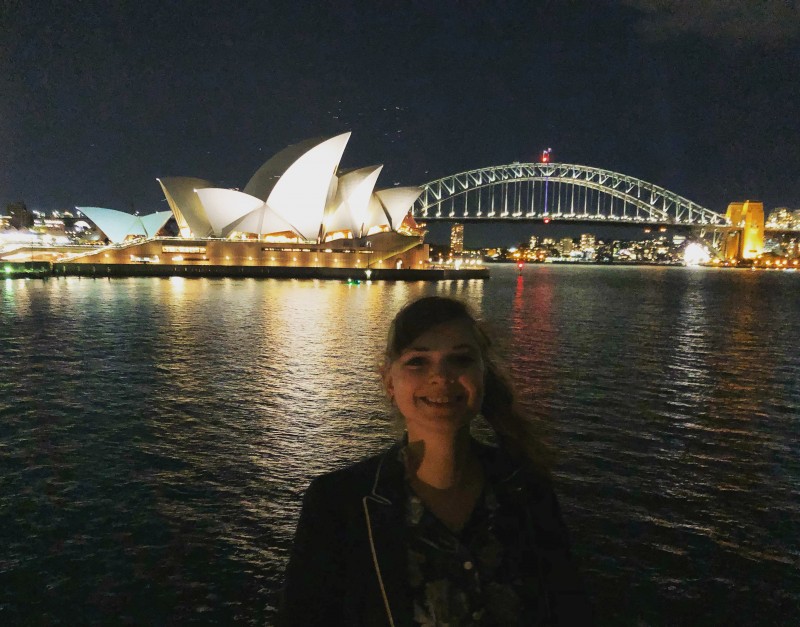 From September 2nd-6th, I attended the 13th International Conference on Paleoceanography (ICP13) held in Sydney, Australia. This amazing opportunity was made possible with the help of Challenger Society Travel Award (and others), allowing me to present my research at the most specialized and important conference in my field, as well as meeting lots of fascinating people. This conference is held every three years and covers everything to do with past oceans- from automated robot systems for foram identification through to ocean modelling and foraminifera geochemistry.

My trip to Australia started with an unexpected overnight stay in Dubai, after a missed connection due to flight delays- luckily it was the airline's fault and not mine! I finally arrived in Sydney a day early, to recover from jet lag and catch up on some much-needed sleep. My day off involved a long walk and watching sunset on Bondi beach, followed by an early night- ready for the busy conference week and my poster presentation the following day.

The week-long conference consisted of 25 specialized talks, three poster sessions, various meetings and workshops, four longer perspective talks and evening social events. My poster session was on the first day, where I presented my research on Holocene spatial changes in the position of Gulf Stream, using planktonic foraminifera assemblages and how this links into North Atlantic circulation and AMOC. The feedback and discussions I received for my poster were very fruitful and engaging and gave me new found enthusiasm to finish writing up my research as a paper. The four perspective talks by Ed Brook, Andy Ridgwell, Axel Timmermann and Kim Cobb were all fantastic and informative. For me, the highlight was Axel Timmermann's talk on past climate influences on early human dispersal, where he discussed a human dispersion model, archeological data and ancient DNA in relation to Homo sapiens migration, as well as the extinction of Neanderthals. It was particularly relevant, being in Australia, discussing the interesting insight into human migration into Australia and The Aboriginals' DNA.

ICP13 was packed with absolutely fantastic social events as well as delicious and healthy lunches that catered for all food requirements. The ice breaker on the first night included an authentic Aboriginal performance, as well as drinks and canapés and lots of fun talking to familiar colleagues and having the opportunity to make helpful new friends. Tuesday night included PAGES early career drinks; whilst on Thursday night, the famous Paleomusicology concert was held, originally started by Nick Shackleton himself. There were various amazing performances by the community including a «paleo choir» and CAPOERIA- an intriguing blend of martial arts and dancing. However, the highlight of the social programme has got to be the conference dinner, which was a sunset and evening cruise in the iconic Sydney Harbour, admiring the views of the Sydney Harbour Bridge and The Sydney Opera House on a luxurious private boat with unlimited food and drinks!

Various field trips were also on offer at the conference. The day after the conference ended, I attended a field trip to The Wombeyan Caves, led by Andy Baker who researches speleothems and hydroclimates in this region. Apart from fantastic stalagmites, stalactites and cave views, we also got to see kangaroos (with joeys!) running freely in the wild around the national park.

I spent a further few days in Sydney after the conference and used my time to go whale watching, explore the city and its beaches, and went hiking in The Blue Mountains National Park. There, I saw the most amazing flora and fauna- the temperate rainforest in the valleys, eucalyptus forest on the cliffs, waterfalls and gorges, The Three Sisters and other rock formations; and exotic bird species like Sulphur-crested cockatoo and Superb lyrebirds.

ICP13 provided me with the once-in-a-lifetime trip to Australia as well as a great opportunity to learn the newest science, network with other scientists in my field, future collaborations and lots of new research ideas and inspiration (as well as drinking coffees with plenty of Australian white ibises trying to steel my biscuits with their long beaks)! I can't thank the Challenger Society enough, among others, for helping me attend this conference and I look forward to attending ICP14 in Bergen.



Latest News
The oceans, the blue economy and implications for climate change event
The oceans, the blue economy and implications for climate change
Date: 29 November 2023, 6:30 pm - 8:00 pm
Speaker: Rupert Howes, Joanna Post, Dr John Siddorn, Dr Siva Thambisetty, Professor Elizabeth Robinson, Dr Darian McBain
Venue: Sheikh Zayed Theatre, Cheng Kin Ku Building, LSE Campus and online

Many conversations about sustainability and climate-change focus on activities on land – the green part of our planet. This misses a vital part of the puzzle, the role that our oceans play.
---
Ocean and Coastal Futures - Bursary
As part of our commitment to encouraging and supporting diversity, equity and inclusion, Ocean and Coastal Futures is launching its first Coastal Futures Bursary in partnership with Esmée Fairbairn Foundation. This opportunity is open for young people aged 18 to 30 years old, who are currently underrepresented in the marine and coastal sector and face financial barriers to attending. Individuals do not have to be working or studying in the sector currently but must reside in the UK.
---
CLASS Modelling Workshop 2024
The CLASS Programme is hosting a Modelling Workshop in early 2024. This is aimed at UK participants only. Event details and criteria to sign up are available here.
---