Reproduction of cold-water corals
Edyta Glogowska
University of Southampton, Southampton, UK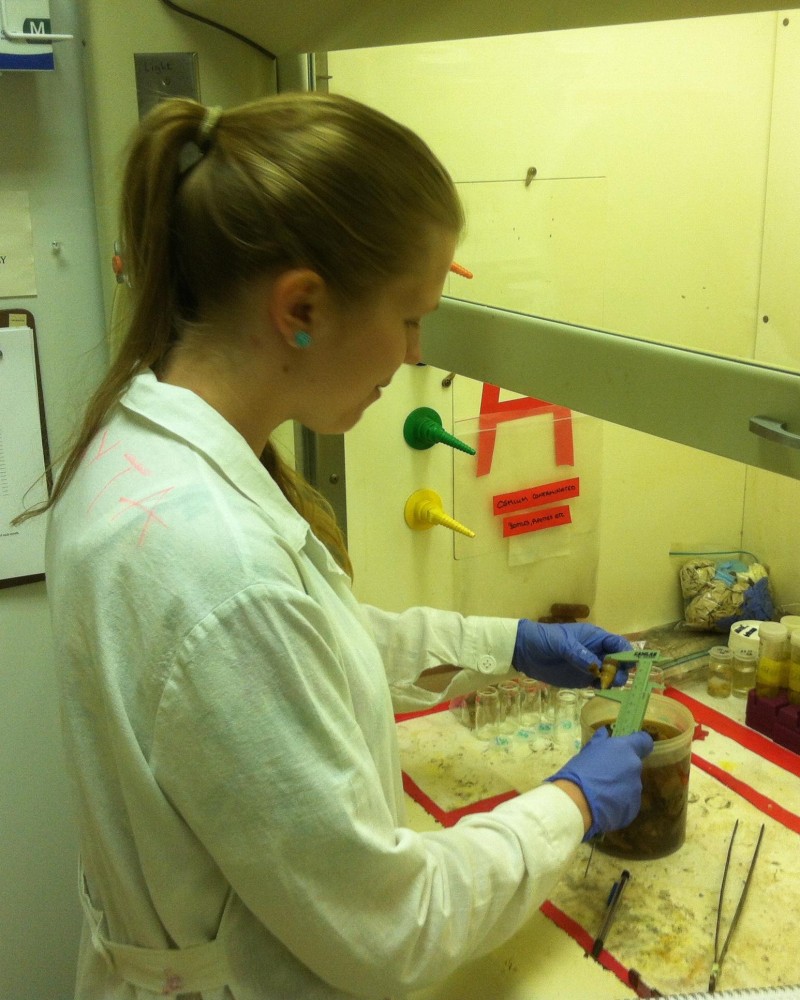 Darling Marine Center in Walpole, Maine, USA
Darling Marine Center in Walpole, Maine, USA was a perfect place for completing an independent scientific research project required to achieve my Master degree. I am immensely grateful to the Challenger Society for a travel award that I was granted, which enabled me a trip to the USA.

I got a chance to collaborate with an expert in deep-sea biology and invertebrate reproduction - Dr Rhian Waller. I have been working in her laboratory for two months, where I could focus on my project about reproduction of cold-water corals. I gained extensive knowledge about various histological techniques, which in turn helped me to improve methods I needed to examine three stony coral species from Antarctica, Mediterranean Sea and Florida. Moreover, I had the opportunity to broaden my knowledge about cold-water coral ecosystem, which is essential to thoroughly analyse these organisms. All these information will help me to write my Master thesis, which hopefully will be published in a scientific journal soon.

Additionally, the grant gave me an unrepeatable opportunity to meet other more experienced marine scientists and researchers who willingly shared their opinion about different aspects of the marine environment with me. Their advice regarding scientific community and a marine biologists career was very helpful and I am convinced that all these information will be tremendously useful in my future career.

The trip to Darling Marine Center has provided me an unforgettable experience. I am glad and grateful that the Challenger Society supported me in this unique adventure.
Latest News
The oceans, the blue economy and implications for climate change event
The oceans, the blue economy and implications for climate change
Date: 29 November 2023, 6:30 pm - 8:00 pm
Speaker: Rupert Howes, Joanna Post, Dr John Siddorn, Dr Siva Thambisetty, Professor Elizabeth Robinson, Dr Darian McBain
Venue: Sheikh Zayed Theatre, Cheng Kin Ku Building, LSE Campus and online

Many conversations about sustainability and climate-change focus on activities on land – the green part of our planet. This misses a vital part of the puzzle, the role that our oceans play.
---
Ocean and Coastal Futures - Bursary
As part of our commitment to encouraging and supporting diversity, equity and inclusion, Ocean and Coastal Futures is launching its first Coastal Futures Bursary in partnership with Esmée Fairbairn Foundation. This opportunity is open for young people aged 18 to 30 years old, who are currently underrepresented in the marine and coastal sector and face financial barriers to attending. Individuals do not have to be working or studying in the sector currently but must reside in the UK.
---
CLASS Modelling Workshop 2024
The CLASS Programme is hosting a Modelling Workshop in early 2024. This is aimed at UK participants only. Event details and criteria to sign up are available here.
---