Ocean Sciences 2020 - San Diego
Yixi Zheng
University of East Anglia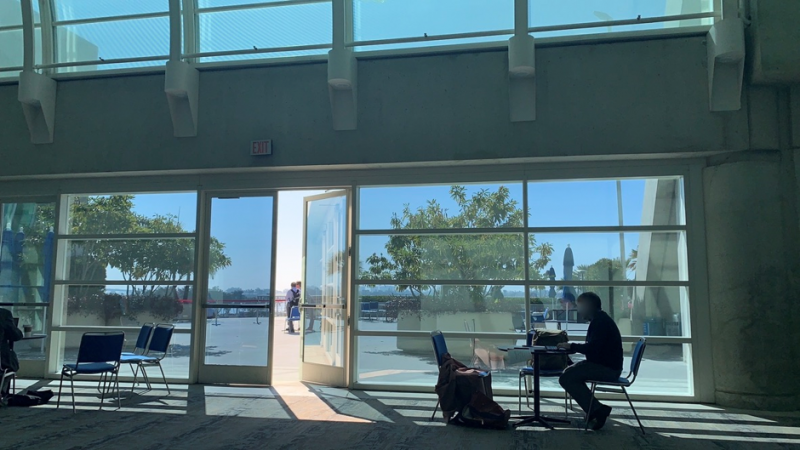 It was the first mega-meeting in my life. I tried my best to not get too overwhelmed by more than one hundred of sessions. The poster hall is giant and it took most people 5 mins to find their own poster boards. My poster focusing on recent work, the meltwater pathways from an Antarctic ice shelf revealed by seals, drew many people's attention, with a very large portion from other disciplines. I normally prefer a talk than a poster but this time, poster did provide me more time to have deep conversations to other researchers and discussed about some useful feedbacks and potential future collaborations.

It was a really good conference for people who have a broad interest. I attended most sessions about high-latitude environments, which are closely linked to my research; and some sessions about data-management skills and data-driven techniques, which I have never touched before. I spent a long time visiting other people's posters as well. Unlike a talk, which allows the speak to present her/his work for 15 mins and disappear forever, posters gave me a good chance to actually discussed with the presenters, ask questions, and share opinions.

San Diego is an amazing city with lovely sunshine and coastal city view. I met many old friends there : ) some of whom I haven't seen for more than 3 years… We also had a nice social evening with people from our session (people from other sessions sneaked in and had fun together as well!) and had a very relaxed time.

It was a tiring week but I benefited a lot from Ocean Sciences Meeting 2020 and enjoyed my trip very much. I am very grateful for receiving the financial support from the generous Challenger Society.

I am a second-year PhD student at the University of East Anglia with Karen Heywood, Ben Webber and David Stevens. My research focuses on the ocean-ice shelf interactions in the Antarctic. Many ice shelves are melting rapidly in Antarctica which exports an increasing amount of meltwater and influences the upper ocean hydrography. My recent work aims to reveal ice-shelf meltwater's pathways in different seasons and figure out how this seasonality can affect the sea ice formation.
Latest News
The oceans, the blue economy and implications for climate change event
The oceans, the blue economy and implications for climate change
Date: 29 November 2023, 6:30 pm - 8:00 pm
Speaker: Rupert Howes, Joanna Post, Dr John Siddorn, Dr Siva Thambisetty, Professor Elizabeth Robinson, Dr Darian McBain
Venue: Sheikh Zayed Theatre, Cheng Kin Ku Building, LSE Campus and online

Many conversations about sustainability and climate-change focus on activities on land – the green part of our planet. This misses a vital part of the puzzle, the role that our oceans play.
---
Ocean and Coastal Futures - Bursary
As part of our commitment to encouraging and supporting diversity, equity and inclusion, Ocean and Coastal Futures is launching its first Coastal Futures Bursary in partnership with Esmée Fairbairn Foundation. This opportunity is open for young people aged 18 to 30 years old, who are currently underrepresented in the marine and coastal sector and face financial barriers to attending. Individuals do not have to be working or studying in the sector currently but must reside in the UK.
---
CLASS Modelling Workshop 2024
The CLASS Programme is hosting a Modelling Workshop in early 2024. This is aimed at UK participants only. Event details and criteria to sign up are available here.
---