Challenger Society Virtual Conference Attendance Award
Kelsey Barnhill
The University of Edinburgh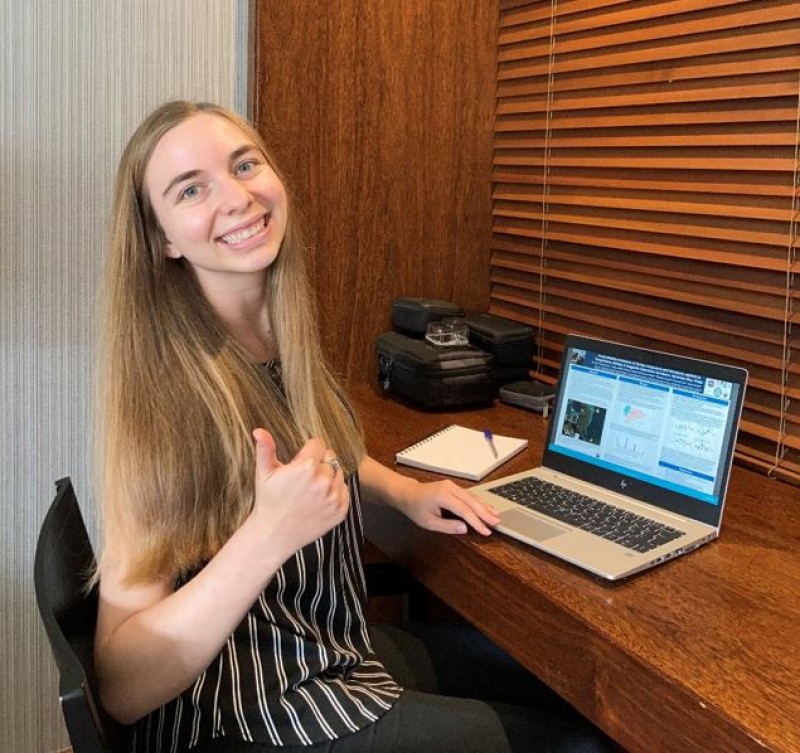 Thank you to the Challenger Society for providing support for my attendance at the 15th International Coral Reef Symposium that was held virtually this July. I have been interested in coral research for nearly 10 years and had dreamed of attending this conference and this was my first opportunity to do so. While attending via my computer trapped indoors during a pre-cruise hotel quarantine was not exactly how I imaged my first attendance at this meeting going, it was an excellent experience nevertheless!

I presented my poster, 'Acclimatization Evidence of Porites compressa and Montipora capitata to Temperature, Salinity & Aragonite Saturation Variations, Kane'ohe Bay, O'ahu.' It was included in the session 'What phenotype, genotype, and environmental factors underlie coral vulnerability and resilience to thermal stress and bleaching?' It was great to share my findings at this conference and I was happy that my poster was of interest to attendees as I had several questions to answer!

Despite the virtual format, there were networking opportunities, including one where I was able to connect with a fellow coral PhD student in Scotland which made the international conference seem like a small world! A networking highlight of the conference was the virtual mentoring event held during lunch time on the second day. Students attending the conference were given the opportunity to informally meet with more experienced scientists in a personalised setting. We also had the chance to select a mentor as opposed to being randomly assigned. I selected to speak with Dr. Ilsa Kuffner who works for the United States Geological Survey at the St. Petersburg Coastal and Marine Science Centre. As a PhD student, I often have chances to speak with individuals in academia and was eager to use this event to speak with someone who chose a career outside of a University-setting. Ilsa gave great advice and provided a clear overview regarding what working for the USGS entailed.

My favourite session I attended during the conference was Theme 5C: 'What does the future hold for cold-water corals in an era of global environmental change?' While I was presenting on tropical research I completed during my Masters, I am now researching cold-water corals for my PhD. It was great to hear about current on-going research within the field of deep-sea corals and watch presentations from researchers whose work I have read for my literature review. Hearing about all the exciting work being done helped motivate me to push forward with my experiments and help coral reef scientists understand more about corals in the deep.



Profile:

After researching tropical corals for my Masters in Tropical Ecology and Management of Natural Resources at the Norwegian University of Life Sciences, I made the dive to deep sea ecology for my PhD. As a member of University of Edinburgh's Changing Oceans Research Group, my research connects the work of iAtlantic to the Global Challenges Research Fund's One Ocean Hub. My research focuses on triple stressor impacts on the habitat-building cold-water coral, Lophelia pertusa. Using laboratory mesocosms to run year-long experiments on live corals and coral skeletons, my work will allow scientists to better understand physiological and structural responses of L. pertusa to ocean acidification, warming, and deoxygenation. Through combining the results of these experiments with analysis of ROV footage to quantify reef Alive:Dead ratios I aim to create carbonate budget models to predict reef futures in projected ocean scenarios. I am the current All-Atlantic Ocean Youth Ambassador for the United Kingdom, where I support the Floating University Network through promoting at-sea training.
Latest News
MEDIN Open Meeting - Enhancing the national framework for sharing UK marine data
We are excited to invite you to the next MEDIN Open Meeting entitled "Enhancing the national framework for sharing UK marine data." on April 26th 2023.
---
Challenger Expedition Portal
Check out the Challenger Expedition Portal created by SAMS: https://challenger-expedition.sams.ac.uk/

---
Upscaling of Marine Autonomy: Marine research community consultation
Upscaling of Marine Autonomy: Marine research community consultation

A recommendation of the landmark Net Zero Oceanographic Capability (NZOC) report was that "NERC should expect to double the size of the autonomous fleet it supports every five years." In response, the NOCA and the Challenger Society for Marine Science have formed the joint Upscaling Autonomy Working Group (UAWG). The UAWG is running a series of information webinars, followed by a consultation, on the future shape of upscaling of marine autonomy in the UK. For further details and to register, please see the event flyer which may also be found on the NOCA web page which now also features the presentations from the first webinar and survey questions.
---