Dr Chelsey Baker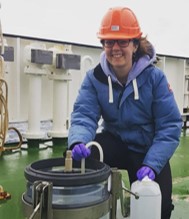 Chelsey is a biogeochemical data and model analyst in the Marine Systems Modelling group at the National Oceanography Centre, Southampton, working on the CLASS project which aims to improve our understanding of the North Atlantic Ocean in a changing climate using observations and models. Chelsey's research interests are focused around the functioning and efficiency of the biological carbon pump, with a focus on carbon export and particle fluxes, and wider implications for the global carbon cycle.

Chelsey graduated with a BSc in Ocean Sciences from Bangor University (2014) and went on to study for an MSc in Oceanography at the University of Southampton (2015). Chelsey then completed her PhD at the University of Southampton (2019) on the topic of deep ocean carbon storage in the Subpolar North Atlantic and also undertook a research placement to Woods Hole Oceanographic Institution during this time. She participated in several research cruises collecting biogeochemical samples during her PhD and to date has spent over 120 days at sea on research cruises throughout the Atlantic Ocean.

Chelsey was a volunteer for the UK Polar Network (2016-2020) which focuses on education and outreach and providing support for Polar early career researcher. Chelsey took an active role in providing support and organising training for early career researchers, including interdisciplinary workshops focused on promoting collaboration between UK and Russian researchers.
Latest News
New members sought for the Marine Facilities Advisory Board
Marine Facilities Advisory Board: call for new members

The Marine Facilities Advisory Board (MFAB) is seeking to recruit five new members from the UK marine scientific user community who are keen to provide vital insight into the potential future needs of the National Marine Equipment Pool (NMEP). Details about this interesting opportunity are available on the MFAB website or here. For questions about this opportunity or more generally about MFAB, please contact: Jackie Pearson, Secretary to MFAB, National Oceanography Centre: jfpea@noc.ac.uk
---
Challenger Medal Awarded 2020 and 2022
The Challenger Society is delighted to announce the delayed award of the 2020 Challenger Medal to Prof. Alberto Naveira Garabato, and of the 2022 Challenger Medal to Prof. Carol Robinson. We are absolutely delighted to honour these two fantastic scientists in this way, and look forward to hearing their Award Lectures at the forthcoming Challenger 150 meeting at the Natural History Museum. For more information about the Challenger Conference 2022 please click here.
---
International Digital Twins of the Ocean Summit #DITTO22
You are warmly invited to join on-line the International Digital Twins of the Ocean Summit #DITTO22, which takes place on Wednesday and Thursday the 4th and 5th of May.
---