Dr Chelsey Baker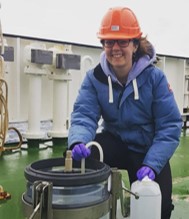 Chelsey is a biogeochemical data and model analyst in the Marine Systems Modelling group at the National Oceanography Centre, Southampton, working on the CLASS project which aims to improve our understanding of the North Atlantic Ocean in a changing climate using observations and models. Chelsey's research interests are focused around the functioning and efficiency of the biological carbon pump, with a focus on carbon export and particle fluxes, and wider implications for the global carbon cycle.

Chelsey graduated with a BSc in Ocean Sciences from Bangor University (2014) and went on to study for an MSc in Oceanography at the University of Southampton (2015). Chelsey then completed her PhD at the University of Southampton (2019) on the topic of deep ocean carbon storage in the Subpolar North Atlantic and also undertook a research placement to Woods Hole Oceanographic Institution during this time. She participated in several research cruises collecting biogeochemical samples during her PhD and to date has spent over 120 days at sea on research cruises throughout the Atlantic Ocean.

Chelsey was a volunteer for the UK Polar Network (2016-2020) which focuses on education and outreach and providing support for Polar early career researcher. Chelsey took an active role in providing support and organising training for early career researchers, including interdisciplinary workshops focused on promoting collaboration between UK and Russian researchers.
Latest News
The oceans, the blue economy and implications for climate change event
The oceans, the blue economy and implications for climate change
Date: 29 November 2023, 6:30 pm - 8:00 pm
Speaker: Rupert Howes, Joanna Post, Dr John Siddorn, Dr Siva Thambisetty, Professor Elizabeth Robinson, Dr Darian McBain
Venue: Sheikh Zayed Theatre, Cheng Kin Ku Building, LSE Campus and online

Many conversations about sustainability and climate-change focus on activities on land – the green part of our planet. This misses a vital part of the puzzle, the role that our oceans play.
---
Ocean and Coastal Futures - Bursary
As part of our commitment to encouraging and supporting diversity, equity and inclusion, Ocean and Coastal Futures is launching its first Coastal Futures Bursary in partnership with Esmée Fairbairn Foundation. This opportunity is open for young people aged 18 to 30 years old, who are currently underrepresented in the marine and coastal sector and face financial barriers to attending. Individuals do not have to be working or studying in the sector currently but must reside in the UK.
---
CLASS Modelling Workshop 2024
The CLASS Programme is hosting a Modelling Workshop in early 2024. This is aimed at UK participants only. Event details and criteria to sign up are available here.
---